(4)

My Life

Blog about my life.
#731685 added August 16, 2011 at 9:51am
Restrictions: None
Day 39
Name the most terrifying moment of your life so far.

My most terrifying moment started back in January 2006. I woke up one day in terrible pain in my stomach. I went down to the E.R. and they called in a surgeon because I had a bowel obstruction. They did the surgery and I stayed in the hospital for two weeks. I was doing pretty good for about a month. Then I started vomiting constantly. At that time, I weigh 156 pounds. I keep going to see my doctor because I was vomiting all the time and losing weight so fast. My doctor just keep telling me to go home, and to make sure I had something to drink by me at all times. This went on for a whole year. Finally I went to see my doctor one last time about it, and she told me the same thing over and over again. My son had come with me and as I was leaving the doctor's office, I said to my son, "She is sending me home to die."

I went home and my vomiting continued for about two more weeks. I just laid on the couch and was in horrible pain. One day my husband came home and sat on a chair and said to me, "This is enough, I'm calling 911, and you're going down to Regions Hospital. Never again, will you go back to any HealthEast Hospital or clinic."

I really got scared because he had to call an ambulance for me. I heard the sirens in the distance and thought, Oh my god, this is really bad." The paramedics came in and started an I'V on me and said that my heart was very irregular. They put me in the ambulance and kept checking my heart. We were finally on our way down to the hospital.

Finally we arrived at Regions Hospital, which only took about three minutes. The E.R. doctor did some blood tests and a cat-scan on me. But, before he did all that, crying I said to him, "Please keep me here, don't send me home to die. They weighed me and I only weighed seventy-nine pounds. Finally the doctor came back and told me that my kidneys were failing, my heart was irregular, and that I had a bowel obstructions. They called in a surgeon and he told me that I would need to have surgery.

The next day they did surgery on me. It took the surgeon twelve hours to do surgery on me. The surgeon came out and told my family that I was in very critical condition.

They put me in I.C.U and I was on a ventilator. I woke up and could not speak. All my children and husband were around my bed. I started crying and my children started to comfort me. My daughter told me what happened in surgery and that I was in critical condition. She told me that the other doctor had sewed me wrong on my last bowel surgery. She said that he only left like a pin hole for things to go through and that is why I was vomiting all the time. She also told me to go to sleep so I would get better faster. I was just terrified with that ventilator on me and hearing I was in critical condition. I thought I was going to not make it. That's all I could think of. I also thought about not being able to see my children get married or see my grandchildren. What a terrifying moment that was for me.

They had to do five surgeries on me in one week to fix what the other surgeon had done. My stomach was so swollen that they had to leave my abdomen open. They put a machine on to catch all the infection that was in my body.

One night I was sort of awake and I heard the doctor say that I might have to have a pace maker put in, because my heart was so irregular. They said they would wait awhile to see if it gets better. They thought it was from all the infection in my body. I was so terrified to hear this. They had seen that I was being to wake up so they sedated me again. I was sedated and on a ventilator for a month. I did hear people talking to me while I was sedated. I even heard my mom's voice saying to me, "Jan, everything is going to be alright." That really scared me to hear my dead mother's voice. But, also kind of comforting at the same time.

When they finally removed the ventilator, I then felt like I was getting better. The moved me from I.C.U. to a regular room, but, the nurse had to closely monitor me. I was in the hospital for two months, then I went to a rehab center for one month. It took me over a year to get back to me feeling better.

I will never forget that time. That was my most terrifying moment in my life.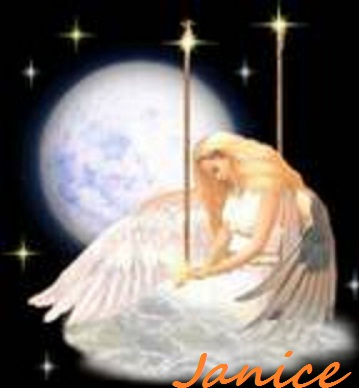 © Copyright 2011 janice48 Have a Nice Day!! (UN: janice012001 at Writing.Com). All rights reserved.
janice48 Have a Nice Day!! has granted Writing.Com, its affiliates and its syndicates non-exclusive rights to display this work.
Log In To Leave Feedback