<< Previous
|
Message List
|
Next >>
May 10, 2012 at 11:48pm
#2391838
Edit page problem
by
Light
I edit an item for a group I belong to.
ONE SIZE FITS ALL RAFFLE [E]
Raising gift points for the groups.
by dogpack: DWG Gps Bella BDay27

1832296
Lately, I have been having a small problem in the edit page. The body window is in write-over mode. This makes fixing typos a pain. This does not seem to be happening anywhere else. Is there a way to change this?
Light
Science, Science Fiction/Fantasy, Metaphysical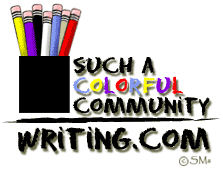 Message Thread:
Edit page problem
· 05-10-12 11:48pm
by
Light
Re: Edit page problem
· 05-11-12 12:34am
by
The StoryMaster
-->> Respond To This Forum Post:
Post a reply to Light
Add a follow up message to the forum for everyone to read.
Send an Email to Light
This is the way to send a private communication to the poster of this message.



The following section applies to this forum item as a whole, not this individual post.
Any feedback sent through it will go to the forum's owner, Writing.Com Support.



Log In To Leave Feedback