Push Button Bacon!

6/12 Seen on the hand dryer in the Mighty Taco bathroom.
Most restroom hand dryers are vandalized when someone scratches the "on" off of where it says "Push Button". This is way more creative. I applaud the person who did this.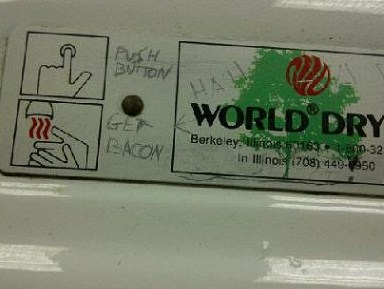 © Copyright 2012 Fivesixer...blog CHAMP!! (UN: fivesixer at Writing.Com). All rights reserved.
Fivesixer...blog CHAMP!! has granted Writing.Com, its affiliates and its syndicates non-exclusive rights to display this work.
Log In To Leave Feedback