Short Stories: December 31, 1969 Issue [#63]





This week:

Edited by: Red Writing Hood
More Newsletters By This Editor



1. About this Newsletter
2. A Word from our Sponsor
3. Letter from the Editor
4. Editor's Picks
5. A Word from Writing.Com
6. Ask & Answer
7. Removal instructions






The purpose of the Short Story Newsletter is to help encourage all Writing.Com members in the art of writing short stories. By demonstrating techniques, posing engaging questions, and allowing you, the Writing.Com short story writer, to provide feedback, this letter strives to make us all become better writers, readers, and editors.












Best things YOU can do RIGHT NOW to improve your writing skills:

**You've already done one, you've joined the best writers community on the planet! Have you utilized all the resources, though?

-Joined a genre specific writing group?
-Read and reviewed?
-Asked for and accepted critiques of your work?
-If not, get going!

**Sign up for a creative writing class or workshop. They're great for new writers as well as old pros.

**Join a local writing group. Online is good for convenience but group discussion is better for immediacy and for developing a thick skin!

**Try some simple self-study (online and off) through books and articles. Here are some suggestions:

BOOKS:

"Invalid Product Review"

"Bird by Bird: Some Instructions on Writing and Life"

"Writers Inc: A Student Handbook for Writing and Learning"

"Self-Editing for Fiction Writers"

"Invalid Product Review"

"Beginnings, Middles & Ends (Elements of Fiction Writing)"

"Setting (Elements of Fiction Writing)"



ARTICLES:

http://www.fictionfactor.com/articles/short.html
http://www.write101.com/shortstory.htm
http://jerz.setonhill.edu/writing/creative/shortstory/
http://www.ivillage.com/books/expert/writecoach/articles/0,,200930_93911,00.html...
http://www.oneofus.co.uk/articles/on_structuring_a_short_story.htm
http://owl.english.purdue.edu/internet/resources/genre.html



**Read and/or watch movies/plays. You will find yourself noticing more and more what is working and not working in the plot, characterization, imagery, etc.

**Write, write and then write some more. If you need prompts, enter contests, find writing assignments, anything that encourages you to write.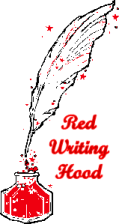 Have an opinion on what you've read here today? Then send the Editor feedback! Find an item that you think would be perfect for showcasing here? Submit it for consideration in the newsletter!
http://www.Writing.Com/main/newsletters.php?action=nli_form



Don't forget to support our sponsor!










I want to take a moment to say how much I've enjoyed writing for this newsletter. Thank you all for your wonderful feedback and making the job a joy! (((HUGS TO ALL)))

Holly aka Red Writing Hood








To stop receiving this newsletter, go into your account and remove the check from the box beside the specific topic. Be sure to click "Complete Edit" or it will not save your changes.
This printed copy is for your personal use only. Reproduction of this work in any other form is not allowed and does violate its copyright.