(6)

Down the Rabbit Hole

by

MD Maurice

Reflections and ruminations from a modern day Alice - Life is Wonderland
Reflections and ruminations from a modern day Alice - Life is Wonderland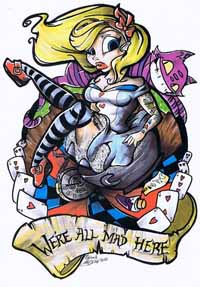 Welcome to the place were I chronicle my own falls down dark holes and adventures chasing white rabbits! Come on In, Take a Bite, You Never Know What You May Find...

"Curiouser and curiouser." Alice in Wonderland
Reflection on a Family Veteran
My grandfather fought in WWII. By the time I was a teenager, we had only ever heard one or two stories from his time in the service. He never spoke about those years even though we always suspected they featured predominately in the landscape of his life. He would have his old war buddies over or meet them at the local Mcdonalds. On those rare occasions when I would tag along or get roped into delivering a tray of ice tea to the picnic table in the back yard, the conversation always stalled in my presence. The animated banter simply dropped off until I'd retreated to a safer distance. I was in high school when an old boyfriend, a history buff and military collector, convinced my Grandfather to do a video-tapped interview on the war for a project. It was only then that my grandfather opened up about his years in the service and his feelings about a war that took such a devastating toll on his generation.

I remember now how he had looked uncomfortable and slightly embarrassed, sitting side by side with Roland, his best friend and fellow veteran. My boyfriend Alan had some scripted questions about specific events and dates but the most revealing answers came when the men were prompted to simply talk about their most memorable moments and feelings. My Grandfather spoke quietly, sometimes becoming emotional especially as he described being marched through a town where buildings and homes were on fire. A woman had run out into the street, her body engulfed in flames, and fallen practically at his feet. His eyes teared up as he described being ordered to "keep going, not to pay her any mind." My Grandfather seemed to stare a few moments into the space in front of him, swallowing and shaking his head slightly, lost in that memory.

The two men spent about an hour swapping stories that were representative of the best and worst of human nature. They spoke about camaraderie and of forging friendships and bonds that extended beyond the trenches, evidenced by the way they often finished each others thoughts or smiled fondly at memories of fellow soldiers and inside jokes. They spoke of the brutality of war, the corruption of their youth in battles fought on foreign soil for causes that at times, they had felt remarkable removed from. The most tragic revelation was realizing while the war had ended, it had left them and hundreds of thousands like them, forever marked and wounded in a way that would never heal. Suddenly my grandfather's midnight dreaming and ranting seemed to have a root cause. I discovered a new well of patience and understanding for a man that could so often be grumpy, aloof and very difficult. Only a few years later, my grandfather took his own life, with the very same weapon he had shouldered as a young infantry shoulder. The revealing and intimate portrait preserved on that videotape seemed to go at least part of the way toward explaining his tragic final action.

Memorial Day is a time to remember and to honor the sacrifices men and woman have made over and over again to protect our precious freedoms. I appreciate all our veterans but I have a special connection to those WWII veterans who are disappearing rapidly from our population. I see my grandfather in every aging veteran selling paper poppies outside the supermarket. I always stop. I make sure to thank them after they hand me my poppy flower. I note their shaking hands, their military dress hats and medals worn proudly despite the obvious age and wear. These were once the same young men who may have fought side by side with my grandfather. They may have had the same dreams. They may suffer the same kinds of nightmares. They certainly share the same pride and devotion to country and they deserve to be remembered, this day and all others.


Grammas are Special
I knew there was a special bond between Jaden and her Nene, quite possible since the moment my mother-in-law first held my little blue-eyed baby in her arms. The long months between her visits have done nothing to diminish that bond, in fact the two of them always pick up seemingly right where they left off before. They communicate in a combination of elementary Turkish and English limited to one or two word phrases. They sing and dance and play...endlessly. Just about everything Jaden says or does evokes a barrage of cooing and kissing from her Grandmother which she accepts pretty graciously to my ceaseless amazement. I've even seen Jaden bestow more than one or two extra kisses at bedtime. Even on the mornings when Jaden heads off the school, a stop in her Nene's room before she leaves, has become part of both of their routines. Their relationship is simple, structured only by unconditional love and mutual adoration.

Last night I was watching them play together, a silly follow-the-leader type game. Jaden was mirroring my mother-in-law's marching legs and pumping arms, that was, until her Grandmother tripped and came tumbling down to the ground. Not missing a beat, Jaden threw herself down alongside her Grandmother in an exaggerated swan dive that was so dramatic that giggles instantly turned into raucous laughter. The two of them sat side by side in the driveway, their feet spayed out in front of them, their heads thrown back and bodies shaking with belly laughs...looking every bit for the moment like two crazies. It was a beautiful sight.

Grandmothers are special. They are pre-programmed to see the very best in us and they encourage and celebrate those things in every single way, in every moment of our lives. I have the most amazing Grandmother myself, she has been my kindred spirit, my best friend, my surrogate Mom. I can honestly say I am in part the person I am today because of the miraculous ways she loves me. I watch Jaden with her Nene and I am so grateful she will have the same opportunity to grow up with a grandmother who loves and cherishes her without limits.
Little Melodies
Jaden has taken up singing lately. Granted, it is only three or four lines to the same song but coupled with some well-time head bobbing and clapping, it is absolutely delightful. On the rare occasions, she forgets she is naturally bashful and will start to sing "Wheel on the Bus" from the seat of the shopping cart or while strolling beside me in the mall, her pigtails bouncing and her hands clapping. I know there is no way my little girl can know this, but her impromptu performances have been like a miracle salve on my wounded spirit these last few weeks. Jaden is singing because she feels happy which in turn, makes me feel like I must be doing something right. It means that even though some days it is a real challenge for me to feel hopeful and positive, I have still managed to impart those sentiments onto her. At a time in my life when I am not feeling secure, I have managed to make her feel safe. Even in this time when I struggle to find things I like about myself, my little girl feels loved and treasured. When Jaden sings, it reassures me, it refocuses me, it lifts me up. My daughter's little melodies make all the difference to me these days.
© Copyright 2013 MD Maurice (UN: maurice1054 at Writing.Com). All rights reserved.
MD Maurice has granted Writing.Com, its affiliates and its syndicates non-exclusive rights to display this work.
Log In To Leave Feedback