(9)

Mercy! Mercy! That Dang Nabed PERCY!

"Putting on the Game Face"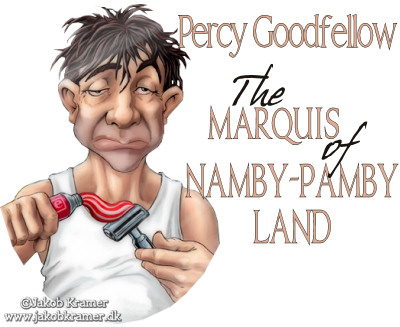 This blog is a doorway into the often bizarre and surreal world of Percy Goodfellow. Be prepared for what lurks unexpectedly in primordial pools and raises without warning from malevolent mists. Here wander the lost boys of Namby-Pamby Land and the girls with woodpecker lips. As wraiths upon the shadowed path they roam the space between audacious hope and the wake-up calls of tomorrow. Behold their scrawl on the CRT, Like graffitti on a subway wall. Examine it through your own lens...Step up my friends, and separate the pepper from the rat poop. Welcome to my abode...the armpit of yesterday, the blinking of an eye and a plank to the edge of Eternity.
© Copyright 2013 percy goodfellow (UN: trebor at Writing.Com). All rights reserved.
percy goodfellow has granted Writing.Com, its affiliates and its syndicates non-exclusive rights to display this work.
Log In To Leave Feedback