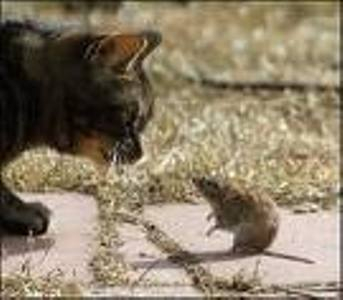 Mickey walked in proudly carrying a mouse in his mouth and I assumed it was dead. Mickey was a hunting kind of cat and brought home his trophies to lie at my feet. But this one was not dead! The moment its feet hit the floor it ran to hide.

Mickey was no ordinary cat, but this was a new one. I was sure the mouse was not long for this world and Mickey would dispatch it at his leisure.

Not so. The mouse had found a home. It ate from Mickey's bowl and slept in Mickey's bed. I swear to you they even talked to each other in mews and squeaks. My pet was keeping a pet.

We did the whole new pet thing, since we knew nothing about mice up to then. We knew they were supposed to carry germs and disease so we assumed shots were in order. We took Cheep-cheep to the vet who had a good laugh when we explained how we happened to have a field mouse in a shoe box.

Cheep-cheep lived all that winter becoming plump and sleek and quite tame. Then one terrible night Mickey got out of the house and was hit by a car.

Soon after, Cheep-cheep died, I believe of a broken heart.

215 words

© Copyright 2008 Doremi (UN: nicegrandma777 at Writing.Com). All rights reserved.
Doremi has granted Writing.Com, its affiliates and syndicates non-exclusive rights to display this work.
Log In To Leave Feedback