I had taken the afternoon off, it was a Friday and the first sunny, warm afternoon in two weeks. I opened the bottle and poured it into his dish, "There you go old man, a good pale ale on a sunny afternoon." Cracking open my bottle I poured it into a glass and settled into my chair next to him. This was to be our last beer together. It started late Wednesday, not really I guess, it had really started thirteen years before. I took a sip and half my beer was gone.



~~~~~



I had to run into the store real quick, no more than ten minutes, I looked at the black lab sleeping next to me on the seat. The trip around town had pretty much worn the little guy out, he was dead to the world. I knew it was a gamble leaving a puppy alone but I figured I would be back very quickly and he would sleep the entire time. I really should have known better. I slipped out of the truck and gently closed the door. Studying him for a minute I decided he was still sleeping soundly. I headed into the market.

As soon as I left the store I knew something was amiss. A woman and her daughter were pointing at the truck and laughing, This can't be good, I thought. It wasn't.

"That's the cutest puppy I have ever seen"' gushed the girl.

Yeah, I thought, real cute. Oden was standing on the dashboard gnawing on it, shaking his head with some vigor. Real cute twerp. I pounded on the window and he looked up at me with unmistakable pride, joy, and welcoming in his eyes. Part of the dash covering was gone, Ah crap, well, nothing some duct tape won't fix I guess, stupid dog. I started to close the door, What the… where'd the armrest go? Oh for fu… crap, duct tape isn't going to fix that.

"Just sit Oden, and don't move." I looked at the gear shift knob and then searched the floor, a third of it was missing and another third was shredded. "You didn't eat that did you buddy?" He squiggled his little butt all over the place in his unbridled enthusiasm for life. His pink, wet tongue darting in and out of his snout, it was to become his signature. Years later when an unknown little boy was petting him the kid said that we should have named him 'Licky Dog'. He had a valid point.

I had just finshed showering and hadn't yet gotten dressed and he came bounding at me, all 96 pounds, with a gleam in his eye that was very distinct, "NO, Oden", I yelled and quickly turned and flopped onto the bed. It just didn't seem right, my dog licking me there you know? Anyway, his feelings were terribly hurt. He walked away and sat with his back to me. He wouldn't even turn around when I left for work, let alone lick me goodbye.

He licked everything; it was like he was a reptile and would taste the air with his tongue. He licked the air when he was happy. When he was nervous his tongue would dart in and out of his mouth as he looked to me for guidance, forgiveness, or sympathy, whatever the case warranted. I was alpha, there was no question about that, but it was a lifelong struggle between Oden and my wife as to who was beta. He rarely did anything she commanded without licking the air at her, which she was convinced was his way of flipping her off. He would look to me and I'd have to raise my eyebrows and say, "Do what she says, pal." He'd then amble over and do as she asked; somehow clearly letting her know it was because I said it, and her wishes had nothing at all to do with his actions. I'd kind of laugh. She never thought it was all that funny.



~~~~~



I looked down and scratched behind his ears. His eye's swiveled up to mine, he was out of beer, so was I, "Another old man?" His expression didn't change, his black eyes were still intense and full of life, but they were tired and there was pain in them. There was love too, pure love. He loved life, he was a family pet, but he was my dog. He loved me, all the time. Through all my mistakes and human frailties he had been by my side. He had tied flies with me, read with me, whatever I did he did.

My eyes misted, "We need another beer buddy, just stay here." But he wouldn't and he didn't. When I got up he painfully rose, his joints popping and creaking, both of us grunting the first few steps as we got all our parts moving at the same time in the right direction. He followed me to the refrigerator and back out onto the porch where we could both be in the warm afternoon sun.



~~~~~



When Oden was about six months old, our daughter and I took him to obedience lessons. We lived beyond the edge of civilization at the time and it was an hour and a half to the closest class, but by that time we knew we needed professional help. We didn't really know what was required but luckily we had AKC papers for Oden, not that he was a particularly good specimen of a black lab, his back end was a tad higher than his front end, he had a few white hairs around his forepaws, and a serious coordination problem concerning his tail. But, he was a purebred, we could register him, and we did. Unfortunately he never really behaved like a purebred. We just wanted the guy to sit, come, stay, quit that damn licking, that sort of thing. We didn't really want to show him (bad mistake admitting that). Additionally I had the nerve to bring a sixth grader to the lessons. It was to be a father daughter bonding experience. No ambitions to show Oden and a sixth grader, two strikes and we hadn't gotten past the registration table. Luckily my daughter was pretty much oblivious to the sixth grader part.

Classes went okay for the most part, we were in the bottom half but we weren't doing that bad and we were really trying. Oden liked the classes; he had a great time socializing with all the other dogs. One night he got himself so worked up with the joy of seeing his buddies at class that he barfed when he finally got to see them. The instructor started to yell, he lost control, and had diarrhea. I thought it was sort of funny, all the mayhem and prim and proper AKC people shrinking back in horror. Evidently I was the only one that found it somewhat amusing.

On the way home our daughter said, "Oh Dad, I have never been so humiliated in my life."

I try to be a good dad, suppressing my laughter as much as possible I replied, "Honey, if that is the most humiliating thing that happens to you, you will have led a charmed life." I don't think that consoled her much at the time.

I don't remember if he actually graduated from the lessons. I do know the instructor not very politely suggested we might want to consider letting him 'mature a bit' before trying lessons again. I never really liked her all that much anyway.

About this time we learned that Oden was kind of a special guy. As I mentioned we lived just beyond civilization, in the middle of a National Forest. We had about five acres that had been cleared and we used as pasture for the horses. At the time we had three dogs, one was an old dignified lady, Pogo was her name. When she was younger she could jump straight up in the air and look over the fence. That isn't from a running start; standing still she could jump straight up six feet and look over the fence. Anyway, Pogo was 14 or so, she was blind and deaf, but she was still a dignified lady. Unfortunately she would wander down into the pasture alone, get lost, and just sit and bark. Here was the amazing part;, Oden would hear her barking and go down to the pasture, nuzzle her and then lead her back up onto the deck at the house. We watched him do that several times. He had a heart, a goofy heart but a compassionate one. He wanted everybody to be happy and safe.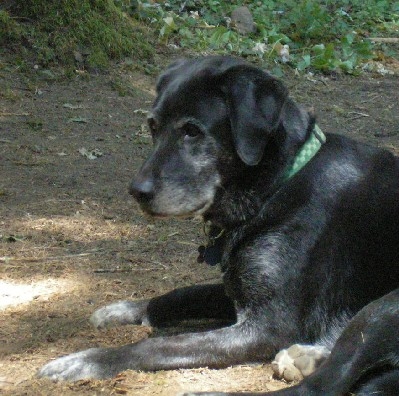 I think he is about 8 or 9 in this picture.



A person would have thought I'd learned my lesson with the truck incident, evidently not. We had a GMC Suburban at one time and I left him alone in it for a bit. He was older. I thought he had settled somewhat. He only ate half the armrest this time because he was full, he had just eaten the entire cruise control mechanism. That dog could eat.

We had a niece and a couple of nephews visiting when we lived in the sticks. When tuna were in season we would go down to the docks and you could buy a whole frozen tuna off a commercial boat for a dollar a pound. We would thaw it out and I'd loin it and make fish and chips or barbeque it. Anyway, all seven of us had gone done to the docks and gotten a 28 pound tuna, brought it home, and put the fish in the bathtub to thaw out. That evening I went in to get the tuna and loin it. From what I am told I let loose with a very creative and colorful string of expletives. The entire upper half of the tuna was gone, eaten clear to the bone. When I found Oden he was laying in our bedroom, bloated and belching the foulest smelling gas imaginable. He couldn't move. We enjoyed that haze all night long, him laying at the foot of the bed moaning and belching. It was great.

One Halloween I was home alone and picking at a roast chicken carcass for dinner while watching a movie, which was a dumb thing to try and do on Halloween. The doorbell would ring and the dogs and I would go and check out the trick or treaters. One ring I put the plate with the carcass on the floor and the three of us went together to get the door. We did the appropriate barking and oohing and ahhing and passed out the candy, all three of us together, the whole time. I got back and the plate was clean. Not a single bone, scrap of meat or shred of skin. That plate had been licked clean.

"What the hell…?" I'd put the plate on the floor which was a mistake, anything on the floor is pretty much fair game. There was nothing left; back, breast, rib cage, wings, everything was gone? We were together the entire time. We couldn't have been apart more than ten seconds, I mean, I had to fight the dumb dog to keep him from trying to lick the kids and steal their candy. How could he have inhaled the entire chicken? I didn't believe it. I searched the entire house and I mean everywhere, under every piece of furniture, every closet, behind every door, there was nothing anywhere. My wife got home in the middle of the search. The dogs stood in front of us, one with a look of puzzlement and Oden slowly wagging his tail with a look of, 'Certainly you can't think I had anything to do with this, do you?'



~~~~~



Oden and I stayed on the porch in silence past sunset. I found myself silently crying. He heaved himself up and put his gray head in my lap. I wasn't silent any longer. I think he knew what was coming; he had for a couple of months actually. Wednesday night he had started dropping dog mines without knowing it, while walking across the living room and they just fell out. He was completely unaware. For all his other bad habits, his gluttony and wanderlust, his obsession with porcupines, he didn't go to the bathroom in the house. I knew it was time. It was Memorial Day weekend coming up. My wife was out of town and wouldn't be home until Sunday, but if Oden knew he was dropping bombs in the house he would have been humiliated. Thursday I made an appointment to see the vet Saturday.

Two or three months before, he'd quit sleeping on the dog bed and taken to sleeping on the floor on my side of the bed. Now he always lay at or on my feet on the hardwood floor downstairs. I thought we'd have one more summer together, that the warm, dry days would ease his arthritis and we would get to fish until the cold rain came in the fall. I wasn't ready for this now, but I don't think I would have been ready in the fall either.

Saturday morning I gave the dogs their breakfast and made a pot of coffee. I wasn't really hungry so I skipped breakfast. The appointment was for 9:30. At about 8:00 Lori, my wife called, we talked for a bit and she asked if I was okay and said that I should wait until she got home the next day. I told her no, it was time, past time. We both knew. I had been softly crying all morning, both dogs sticking close to me, giving me their love. They are good at that. I'd managed to pull myself together and then received a text message from our daughter-in-law. She was running some marathon 24 hour team race deal that weekend while our son studied for his last round of finals. She said her next segment of the run was dedicated to Oden and I lost control and broke down sobbing. I was like a little girl. Heartbreaking sobs wracked me, my shoulders heaved and I gulped for air. I was glad I was alone.

By the time I got myself under control it was time to leave. I loaded Oden into the truck, he couldn't jump in anymore, his bones and muscles just couldn't do it. For the last year or so on the first trip downstairs every morning we would both stand at the top of the stairs waiting for the other to go first. Whichever of us went first ended up with the other one falling into him from behind as momentum took over and control was lost. We would both end up hurtling down the stairs in a symphony of popping tendons, creaking joints, and unintentional groans. Now the first time downstairs isn't near as much fun. It doesn't sound as full and it plain old hurts.

We stood at the reception desk and I was getting ready to pay the bill when the young woman asked me if I wanted the paw. I must have looked confused.

"Didn't anyone tell you about the paw?"

I shook my head.

"Well we can take a paw print and we can put it on a dish or…"

I could feel the pain, horror, and sadness takeover my face, I couldn't stop, usually I am pretty good at hiding my emotions but I just couldn't do it this time. I'd turned into a sissy.

The color drained from the poor woman's face, "No okay then, I am sorry, never mind."

I signed the stuff she put in front of me and sat as far away from everyone as I could get, struggling to keep myself under control.



~~~~~



We had lived in a neighborhood for a time that was predominately young families. Oden liked to get out and socialize and was known by several different names in the area, Sport, Mickey, Black Dog, Rover (how appropriate is that?), That Damn Dog, all sorts of loving monikers. He knew all the kids and the butchers at the grocery store a couple of miles away. One Sunday morning after church we needed something and my wife and I went to the store for beer or something less important. On the way in, out of the corner of my eye I saw a black lab. Man that wasn't… that sure looked like Oden?

"Ah… did you… um, close the gate honey?"

"I don't know, you were the last one out, John."

I rushed back outside, Holy crap, what is he doing here? And where the hell did he get that bone? Oden was tied to a bench and laying on the ground contentedly gnawing on a beef leg. There was a bowl of water next to him and a couple of butchers sitting on the bench.

"Ah…" I seem to start a lot of my sentences that way, "excuse me, but I think that is my dog." Oden looked up, smiled, and then went back to attacking the bone.

"He came right through the door and straight back to the meat counter, so we gave him a bone and some water. Nice dog ya got."

He was serious.

"Yeah, great dog," I mumbled, "thanks you guys. I appreciate you taking care of him. He likes to get out and, um, socialize. What do I owe you for the bone?"

"Oh nothing, don't worry about it, it was kind of entertaining."

They didn't think it was so entertaining the third time. It cost me 75 dollars to get him out of the pound. He was an ex-con three times over. The stinking pound had the nerve to send me a thank you card for our 'generous' donations. That dog had a better social life than I did.

One night he ended up spending the night at a family's home that lived out in the wine country. They had several dogs and the woman was a vet tech. She cleaned his teeth and clipped his toe nails. She said they had a wonderful time; it was just like a 'slumber party'.



~~~~~



He followed me into the exam room, he didn't want to, but he trusted me. Only one tear escaped at that time. I sat on the floor with him until the vet came in and we talked for a few minutes.
"It sounds like it's about time", he said. "You're making the right decision. Do you want to leave or be in the room with him?"

I just nodded and squeaked, "Here please."

He looked at the tech and she left, quickly returning with a large blanket and a syringe. We got the blanket laid it out on the floor with Oden more or less sitting in the middle. I hugged him to me and he gave me a quick lick on the face. That's when the tears came, but I only gulped once. What a Nancy I am.

The Vet spoke in a calm soothing voice, "He won't feel anything, his heart should just stop all at once and that will be it. That's a good boy, good dog. He trusts you."

I gulped again. He was right though, I don't think Oden felt a thing. Within about 30 seconds he just collapsed into me, like a ton of bricks. He was gone. I buried my face in his neck as the Vet gently put his stethoscope to Oden's chest.

"That's it," he whispered gently, "he's better now."

I looked up at him, his eyes were misty, "Thank you", I managed to say.

"We'll take care of the rest, Mr. Hobbs", the tech said.

"Call me John, please." I looked at her, "No, I want to do it."

She nodded and fled the room. She returned shortly with a cart and a male tech to help lift Oden onto the cart. I was still kneeling on the blanket with him when I looked up at her, she didn't look so good either.

"Sorry I am such a sap", I managed to get out.

"No, don't be sorry, he was your friend."

I just nodded and laid him down as gently as I could; I wrapped him in the blanket and went to lift him onto the cart. The male tech moved to help and I shook my head at him. He stopped and stepped back. I couldn't do it without his body flopping around so I asked the tech for help after all.

He smiled kindly and we moved Oden's body onto the cart as gracefully as possible. I stood and wiped my eyes. The woman asked if I would like his collar. I nodded and she held it out to me. After a moment I took it, nodded to her and said thanks. She wheeled the cart from the room, closing the door behind her. I wiped my eyes with the back of my hand and went out to the truck where I rested my forehead on the steering wheel and cried some more.

Our daughter called that afternoon to console me and we just ended up crying together. She's a good woman but her consoling skills need a bit of improvement.

I had always thought that dogs probably had souls, but now I know. His was as pure a soul as ever was. I know he's in heaven now, waiting at the meat counter hoping for a handout, and if God lets me in, Oden will be waiting for me. He'll greet me like he always did, his tail going around in circles and managing to get a lick in.