My daughter, Gail, and my two granddaughters, Leah and Monica

This story is true, about the war on bunnies. Leah loves them and watches them at play. But, when they began eating the buds off the tulips and other flowers that Gail grows around the house and in her rock garden. This was too much to take. I decided to write this story just on this plot.
Leah loved the idea of her grandma writing this story. She helped me with all the good parts of the bunnies, because she had already made a report on cottontails at school. Please read and enjoy this story by Leah and her Grandmama Jeannie. ~Gail is the unsuspecting villian in this story until she changed her ways.~

SAVE THE BUNNIES



"Mom, you're not going to hurt those cute little bunnies, are you?" Leah questioned, upset about what happened too.

Mom gave a look that said, not now. "Leah, go out and play. I need to concentrate." She gave Leah a hug, then turned back to her computer.

Sighing while pushing the screen door open, Leah walked outside. She went over to the swings and started swinging back and forth, thinking of a plan.

Living in the suburbs with a large, wooded area nearby, Leah enjoyed passing away the time by watching the wildlife run free. Those bunnies were so much fun and looked so cute. When they wiggled their noses and ears, hopping and chasing each other, it made her laugh. Now, her bunnies are in big trouble.

She remembered when she helped her mother plant those tulips, lilies and pansies in the garden. When they began to bloom, she admired their pretty colors. Glancing over at the garden, all she saw was some sad-looking stems. Those bunnies sure loved those flowers! Mom's sure upset…

"I have to find some good things that bunnies do, Bow, so Mom won't be mad at them." Leah looked at her pet Beagle, lying nearby.

Hearing his name, Bow perked up his ears, cocked his head and looked at her while wagging his tail in agreement. He liked them too by chasing them around the trees.

"Yes, you do love those bunnies too, don't you?" Leah hugged him and laughed at his eagerness to play.

Suzy, from next door, came over and sat down on the other swing, "Hi, Leah! How mad was your mom about the flowers?"

"Very mad! She's online now reading on how to keep our bunnies away from the vegetable garden. She's already used one of the hints, sprinkling cayenne pepper around the other flowers that are still blooming. It seems to be working, so we got time to think of something that will change her mind about them."

"Maybe we could go to the library and find books on rabbits. There must be something good about rabbits that will make your mom like them too," Suzy reasoned.

"Hey, that's a good idea!" Leah exclaimed. "Do you think your big sister can drive us there?"

"Sure, she just got her driver's license. She'll be happy to do it," Suzy said, proud of her big sister's accomplishment. We'll ask our parents and if they agree, Sherri will drive us to the library. I just know it!"

"There's a guy there that she likes," Suzy whispered to Leah as Sherri drove them to the library.

Arriving and parking by the kids section of the library, the girls went immediately to the area they knew would have lots of books on bunnies. They chose books with plenty of information, and, with their arms full, walked over to check them out.

The girl at the desk smiled at them. "WOW! Both of you sure must like reading about bunnies."

Suzy and Leah nodded and gave her their library cards. When the necessary paperwork was over, she handed the books back, "Here you are, enjoy reading your bunny books."

"Thank you," Leah and Suzy said in unison. They collected their books and took off to find Sherri.

Suzy knew exactly where to find Sherri. They walked upstairs and there she was, talking to the boy behind the desk.

Sherri smiled at them and said, "Could both of you go and read your books downstairs in the children's area? I'll be right there."

Suzy shrugged her shoulders and we went back down to the kid's lounge. Opening our books, we started to look through them, finding some interesting phrases that described bunnies. This gave us an idea.

"Let's put on a play," Suzy and Leah said in unison.

Excited about the new project, Leah said, "We'll get our friends together to help us. Each of us can be a talking bunny and say these phrases. Maybe even act them out if anybody wants to."

"How about costumes, such as rabbit noses and ears?" Suzy said, thinking out loud.

When Sherri came to get them, the girls excitedly talked over each other, explaining about what they wanted to do. She laughed and said, "One at a time please. Now what is it you're planning to do?

Leah spoke first and told her about the bunny phrases that the neighborhood kids can act out. Suzy then asked her if she could get some bunny costumes for them.

"Sure, I can. I know just the place," Sherri agreed as they walked out of the library together.

Leah couldn't contain her excitement, "This will be a great surprise for my mom. This Saturday afternoon we'll put on our play."

All their friends in the neighborhood were contacted. When everyone agreed to do their part, they all pitched in to help. They each got to pick their lines they wanted to say by picking out the best facts that seemed most important and likable about bunnies.

Five days later, Saturday arrived and Leah told her mom not to go out to the backyard. Her mother was curious but agreed to stay in the house.

Leah's father got busy on building a stage made with some of his old planks he had lying around. He also built some stairs and helped put up the curtain which was an old blue sheet.

The neighborhood girls and boys got busy sorting out their bunny costumes. When everybody put them on, lots of excitement and laughter could be heard when they looked at each other. Leah laughed with them, but was so nervous. She hoped everything will be perfect. Finally, it was time for the play to begin.

Leah went inside to get her mother. "Come with me, I have something to show you," She opened the back door and escorted her mom outside.

Her mother looked so surprised, taking in the stage and the chairs for her to watch. "So this is what you didn't want me to see."

"Yes, we're putting on a bunny play just for you."

When mom and I sat down, everything was ready for the play to begin. Watching Sara and Kari hop onto the stage and say their cool phrases about bunnies, Leah had to laugh at their antics. She glanced at her mom, hoping she enjoyed it too. A smile lit her face which was a good sign! Leah was proud of her friends as they each did their part to save the bunnies.

"Rabbits shed their fur frequently, and regrow it soft and clean," Bobby said clearly, turning around and around to show off his clean fur.

"Bunnies can even change color with the seasons to make them harder to see," Sally said, giggling.

"Bunny ears can hear all, sense all and cool off when they're hot!" Timmy said, seriously.

"Bunny's nose knows every scent, every breeze," said Emily, wiggling her nose.

"Bunny's hind legs thump to warn of danger," said Andy, stamping his bunny feet.

"Bunny's tail is called a bob. It flashes messages, warning of danger, excitement and even show directions to other bunnies," Suzy said, turning to show off her tail, trying to wiggle it. The curtain closed, all was ready for the finale.

It was now Leah's turn and she walked behind the curtain to put on her bunny costume. When the curtain opened, she hopped towards the front of the stage and looked straight at her mother. "Hi Mom!" Giving her a shaky smile, she began to speak.

"Rabbits are often referred to as a symbol of rebirth. When spring comes, people see mother rabbits with all her little bunnies hop around. On Easter, we all love the Easter bunny. Rabbits have the unfortunate role of being a prey animal. This is how they became known as the symbol of innocence. Look at the bunnies who visit our backyard, they'll show their playful side. They can be mischievous sometimes too, eating things they shouldn't. They really don't know any better. Just love them for who they are, that's all we're asking."

Everyone hopped onto the stage to stand beside Leah and they all bowed together. She knew the play was a success when her mother came onto the stage to give each and every one a hug and thanked them for a very enjoyable show. When she came to Leah, she said, "Thank you, my sweet angel, I'm so proud of you that you'd do all this for me."

We saved the bunnies and Mom found lots of ways to keep them from her garden. Her favorites ways of keeping the bunnies away was sprinkling vinegar, liquid chili powder or the cayenne pepper around her flowers. These all worked the best. When the bunnies no longer munched on my mom's flowers; eventually, she even learned to love them.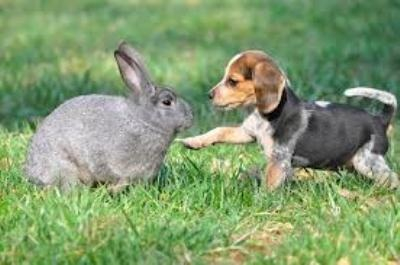 Even Bow began to love the bunnies, because he no longer chased them around the trees. They even became friends.