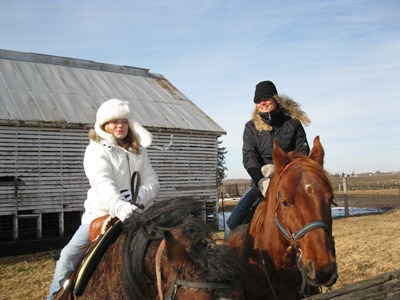 My granddaughter, Leah, and her mother, Gail are ready to ride

.



*Zumbro Bottoms, located by Wabasha, Minnesota offers access to 44 miles of horseback riding trails.
Leah, her mom and brother go there because they love to ride their horses and meet other people there that raise horses.

Here's Leah's fictional piece on it. She's got quite an imagination and wrote a suspenseful story about it.
*Billy is her horse that she is mentioning. I hope you can follow it.





ZOMBRO DAYS




"I want to go, I want to go!" I yelled.

"Where?" asked grandma.

*"Zombro Bottoms." I said very loud.

Two hours later we went. I took out the horse, "I'm gonna ride," I yelled.

"OK, I'm right here."

When I got to the mountain, I checked if I had everything. I went up. I saw a horse. It had reins so it was owned, but by who? I looked all around, no one was here.

Just then I saw a man walking up the mountain, he was hurt so I helped him up. But when he was up, the horse ran away. I got out my lasso, threw it over the horse's neck.

The man got off my horse and onto his. He started laughing. I was scared.

"Come on Cristy!" he screamed. My horse started galloping after him. He led me into a dark forest. I saw a loooot of horses and ponies.

A stone door closes behind me. I heard another laugh, I looked up. He was there! "I knew you were coming!" he yelled.

"Yah, yah, I can hear ya," I said. My horse started running. I held on for dear life.

*Billy found a way out. I ran out. I went to the camper. I told Amber, but she didn't know about any monster.

In the middle of the night he grabbed me! Then I was there in the cave again. I kicked him. He tied me to a chair. But, I got loose and then got lost. I took all the horses and the ponies back to their owners and saved the day THE END. ~by Leah P.

© Copyright 2011 Jeannie S. (UN: sjs55049 at Writing.Com). All rights reserved.
Jeannie S. has granted Writing.Com, its affiliates and syndicates non-exclusive rights to display this work.
Log In To Leave Feedback