(9)

Put Flowers On My Grave

by

elizjohn

Another eulogy I wrote a while ago in the form of the poem.
Put flowers on my grave
And remember me softly
Like petals on a flower
That bloom
That wither
That die

Put flowers on my grave
And say my name quietly
Whisper it on the wind
With warmth
With love
With sadness

Put flowers on my grave
And wish for me gently
In the form of a prayer
For life
For love
For peace

Put flowers on my grave
But salt the earth of my remains
And shed not a tear for me!
For I touched this place
And I walked this earth
And now my spirit's free
Now my time moves on

So put flowers on my grave
Because now I am gone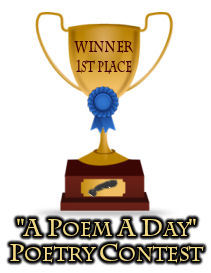 © Copyright 2012 elizjohn (UN: elizjohn2000 at Writing.Com). All rights reserved.
elizjohn has granted Writing.Com, its affiliates and syndicates non-exclusive rights to display this work.
Log In To Leave Feedback