(4)

Little Monk.

For - "The Storytellers: It's Storytime Contest"
Little Monk.



He saw his Mom's shading shadow through his tears.He felt so tired to his self and uncomfortable.He felt his soft heart was very heavy.Felt that his mind was carrying lot of weight.Saffron color rob was heavy to handle for his little body.He sighs,and sat under the "Bo" tree.It leaves was dancing,and he heard the melody of weaving leaves.Fragrance of the sandal dhoop sticks,and the smell of the white jasmine flowers mixed together and flowing on the air and it ran through his nostrils.Calm and quiet breeze covered him.

"Namo`thassa`bagawatho`arahatho`samma`sambudassa`..." he heard the praying verses,sang by the little monks.He follow the lines by mumbling to him self.He took a long breath and try to meditate,but he couldn't.He wouldn't calm his mind.It ran every where.Still he was in his playful age and it was so hard to calm his mind.Moon was shining above in the sky and it's beam filtered from the "Bo"tree's leaves and felt through the branches.He heard the temple bell rang.One by one men,women and children entered to the temple calmly,and quietly.whole temple surrounded by the white color dresses.They all were looked like as white lotuses that blooms in a pond.

Suddenly his eyes were catching on a little girl who was hanging on his brothers index finger.They ran every where around the temple,offered flowers together,make some circles in white sand.But her brother never took his eyes from his little sister.Little monk saw everything. His tears born and filed it in lower eyelid,it was rolling down by hugging and kissing his cheeks.Passed his chin and fell to the chest and died.
He saw the flame of the clay oil lamp.It's flame was so bright.He saw his past through that flame,his mind ran to the past secretly.
The way he played hide and seek with his little sister,the way he took her hand and went to the school,taste of his Mom's rice and spicy curry meals..thousand of memories started to ruining in his mind.He remembered the day that his head shaved,the day his beloved Mom worship his feet,the way he felt his Mom's cold tears that felt in to his foot and his sister's innocent eyes.He didn't cry,but in inside his heart was sobbed.All that he did was blessing them.

He saw his Mom was waiting near the fence till he come,he saw her from his mind.He felt to remove the rob and ran to his Mom,to hang on her arms.He wanted to slept by her side by cuddling to her chest.He wanted slept warmly by hearing his Mom's heart beat.He felt he was alone,he felt his heart was empty without his loving Mom and sister.But there's nothing to do,he realized.

Dried "Bo"leaf was felt to his lap.It's a skeleton "Bo"leaf.He looked at it closely.There's only veins,and it divided to hundred of parts.
"See that "Bo" leaf Sumana Thero..!" little monk was excited by hearing elderly monk's voice.
"Yes..My master.."he replied.
"It was very confusing know..? I had the same feeling when I was in your age..it was very hard to leave our loved ones.But see that leaf..one day our life will also turn like that.You will understand everything.See.. everything had a hidden pain and suffer.we have to find away to leave that pain.Try to calm your mind and try to meditate.It's the best way to heal your heart. " Elderly monk said and leave the little monk alone.

Sumana thero,the little monk thought for a moment.His master's words sonorous in his mind again and again.At last he sighs without saying a single word and close his eyes.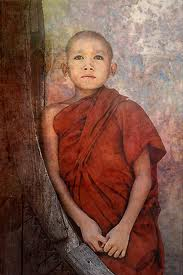 © Copyright 2012 Silent Heart - I'm back (UN: shashee at Writing.Com). All rights reserved.
Silent Heart - I'm back has granted Writing.Com, its affiliates and syndicates non-exclusive rights to display this work.
Log In To Leave Feedback