(9)

Morning Adoration

by

embe

Golden gates open to paradise beyond earth's limitations.
Morning adoration peaceful beneath the sky

Sun rising below the clouds on the horizon

Wind ripping the burdens from my heart

Dark waves of doubt disappearing

Night winds warn me once more

On this brief thoughtful hour

Serene and mild dawning

Breath of my life for you

Angels dressed in white

Innocence in laughter

My healing will flow

Blue heaven above

The luminous sign

Shining so brightly

Eden a garden green

Peace will follow soon

Christ my son dying today

There on the cross of Calvary

Your sins of failure washed away

Waking a new day with our Savior

Preaching that flowed from me

God the father for my son

Three in one to pray

For our holy trinity

Saved by grace

Before or after

A lonely grave

Of bondage day

The devil dancing

Burning with his lies

Seeing heaven open wide

Beyond earth's limitations

Golden gates open to paradise

My marble homes for the orphans

Living life anew with Mom and Dad

Morning adoration a holy gift for them.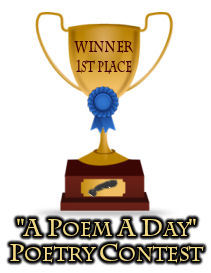 © Copyright 2012 embe (UN: embe at Writing.Com). All rights reserved.
embe has granted Writing.Com, its affiliates and syndicates non-exclusive rights to display this work.
Log In To Leave Feedback