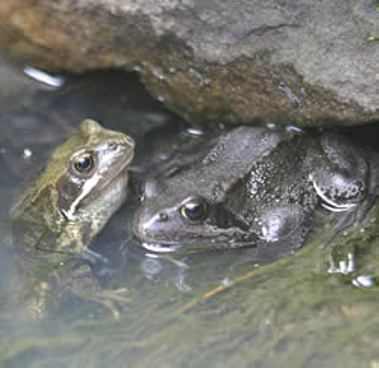 A Jumping Hopping Tale
One sunny morning, a beautiful green frog jumped out of the water onto a lily pad. The sun felt so good, he sat and sang his happy tune.

"Ribbit, Ribbit, Ribbit, Ribbit," sang Fernando Froggie.

Suddenly, Taddius Toad hopped onto his lily pad.

"Where did you come from?" Fernando Froggie became indignant that his beautiful song was interrupted by this silly toad.

"Just hopped in to say hello," Taddius Toad replied. "I was talking with Ralphie Raccoon, and he told me Simon Snake is coming this way. I just wanted to warn you."

"That slimy, slithering snake is after me again! I wish he would go bother someone else," Fernando Froggie jumped back into the lake to hide.

One time Taddius Toad remembered asking, "Why do you stay by the water all the time? There's a whole new world to see!"

"I need to live near the water," Fernando Froggie answered him. "My skin needs to stay moist all the time. Otherwise, I'll die."

All of a sudden, Fernando Froggie jumped out of the water and back onto the lily pad. "I've been thinking I'll be alright. I have these high, round, bulging eyes that'll spot Simon Snake when he comes. My vision is very good!"

"If you're sure... I know that my football shaped eyes are not like yours." Taddius Toad said. "But whenever I feel preyed upon, I turn and stalk up to it when my binocular fixation alerts me to act. This is when I spring into action and without warning my instinct tells me to snap and swallow. I feel this makes me a very successful hunter, and I always wipe my mouth off with my front limbs. I'm very neat that way."

"Yes, well, you don't have to worry about predators as I do. Who wants your rough, dry, bumpy skin? I guess I'm just more attractive to Simon Snake," Fernando Froggie sighed.

Taddius Toad laughed, saying, "Predators don't like how I smell either. I hit them with my best shot which burns their eyes and nostrils. They leave me alone after that."

"Well, everyone is envious of my smooth, moist skin, narrow body and my really beautiful long hind legs. I can jump higher and longer than you," Fernando Froggie bragged. He just couldn't help himself.

Taddius Toad shrugged off Fernando Froggie's bragging, "Okay, but you have to stay here while I can go anywhere in the forest. Just remember, I did come here to warn you about Simon Snake. I really didn't have to, you know."

"Yes, well, thank you, I'm sorry, I guess I'm a little uptight about Simon Snake stalking me all the time," Fernando Froggie said. "The friends of the forest come visit me at the lake; they drink while I chat with them. I know as much as you do about what is going on!"

"Why do you do that? You apologize, then you say you don't need me to tell you what is going on," Taddius Toad thought for a minute, then decided to check out the forest. "I'm going, just be on the look-out for Simon Snake."

"I will," Fernando Froggie said, knowing he'd be able to spot him and take care of himself.

He watched Taddius Toad leave. He felt sorry for his friend and embarrassed about having that wide body; those short legs makes his jumps less powerful than mine. However, Fernando Froggie did admire his friend. Taddius Toad oozed self-confidence with a "nobody better mess with me" attitude.

Fernando Froggie sighed as he sat on his lily pad, "Maybe I should be as ugly as TaddiusToad then Simon Snake will leave me alone."

"What are you mumbling about?" Serena Swan asked as she gracefully swam by on the lake.

"Oh, it's just that Simon Snake is after me again," said Fernando Froggie. " I don't think he's very happy about me getting away from him all the time."

Serena Swan hissed and hissed, finding it amusing that the frog kept outmaneuvering the snake.

Meanwhile, as Fernando Froggie was bragging to Serena Swan, Simon Snake slithered quietly up towards the lake. He spotted that green, tasty frog sunning himself on the lily pad.

"Now's my chance to get him," Simon Snake thought to himself. "He's occupied talking with Serena Swan, so I'll just swim up to him and pounce."

Taddius Toad was watching nearby. Just as Simon Snake was about to slither into the water, he hopped very close and let go of his powerful weapon of smell. Simon Snake's eyes burned from the odor, his tongue burned, he let out one last hiss, then slithered away to sooth his wounded pride.

Fernando Froggie and Serena Swan watched the whole thing from the middle of the lake.

"Thank you!" Freddy Frog exclaimed, humbled by what his friend did for him. "You did me a great favor by saving my life; I was too occupied with my bragging to Serena Swan."

"I like to keep my friends, not lose them to somebody like Simon Snake," said TaddiusToad. "Nobody likes him, he's too sly and untrustworthy."

That night, the animals from the forest came to drink from the lake. They all were happy to hear about what Taddius Toad did for his friend, Fernando Froggie.

"We all look different, but that doesn't mean we don't watch out for each other," said the wise old owl, Ollie.

Everyone chimed in at once with their different sounds, agreeing with Ollie Owl. The forest came alive with ribbits, croaks, whoo's, hissing, honks; lots of happy animals showing they all care about each other.

Seraphine Skunk was so happy she let go of an awful order. As the smell drifted along with the breeze, all the animals quickly scurried off into the forest to get away, while Fernando Froggie and Taddius Toad dived as deep as they could together in the lake.