Printed from https://www.writing.com/main/images/item_id/1236239-Tri-Service-Logo-from-Australia
(1)

Sent to me by MEG from Australia whose husband was and sons are military!
Many thanks to MEG for the wonderful Tri-Service Logo.of the Australian military services. She writes: I'm sending you the official 'Tri-Service Logo' for the Australian Defence Force. The logo depicts icons from the Army, Navy and Air Force. On top of the logo is the Australian Federation Star; the logo includes crossed swords for the Army, a wedged tail eagle for the Air Force and a ship's anchor for the Navy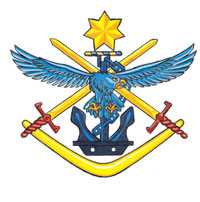 © Copyright 2007 🌜 HuntersMoon (UN: huntersmoon at Writing.Com). All rights reserved.
🌜 HuntersMoon has granted Writing.Com, its affiliates and its syndicates non-exclusive rights to display this work.
Printed from https://www.writing.com/main/images/item_id/1236239-Tri-Service-Logo-from-Australia