Printed from https://www.writing.com/main/profile/blog/drschneider/month/4-1-2023
(224)

by

Dave

A log of the magnificent journey across the vast sea of my imagination.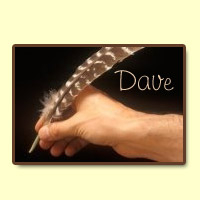 A log of our magnificent journey.
A mother cries
when precious son departs for war.

A mother cries
and will forever agonize
when Army rep knocks on her door.

The grieving shakes her to the core,
so mother cries.
Notes on the Rondelet form of poetry
▼
The earth becomes a canvas for Mother Nature's art
when Heaven pours its bounty upon the ground
and then brushes flower garden with lots of sunshine,
'til sprouts of daffodils and pansies abound.

She paints my yard in vibrant green, gold, and magenta,
bejeweled with resplendent morning dew drops,
viewed with wonder from my perch in back porch rocking chair
while savoring scrumptious cherry lollipops.
Notes on the Doha form of poetry
▼
© Copyright 2023 Dave (UN: drschneider at Writing.Com). All rights reserved.
Dave has granted Writing.Com, its affiliates and its syndicates non-exclusive rights to display this work.
Printed from https://www.writing.com/main/profile/blog/drschneider/month/4-1-2023