Printed from https://www.writing.com/main/profile/blog/drschneider/month/9-1-2021
(163)

by

Dave

A log of the magnificent journey across the vast sea of my imagination.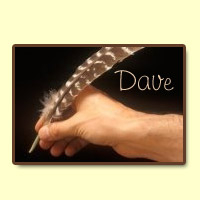 A log of our magnificent journey.
September 10, 2021 at 3:59pm
We sail the distant seas,
complying with Commander's orders,
so we can minimize
the threat which lurks beyond our borders.

Through all kinds of weather,
we take the fight to them to ensure
the future will not bring
another Nine-Eleven massacre.
September 6, 2021 at 11:17am
"The difference between the almost right word and the right word is really a large matter. 'Tis the difference between the lightning bug and the lightning."
~ Mark Twain

This Task

This gargantuan task
of finding precise word
must be done with finesse,
searching Thesaurus cask
with effort undeterred
by volume of excess.

So, we are called word nerds,
but we have such a blast!
© Copyright 2021 Dave (UN: drschneider at Writing.Com). All rights reserved.
Dave has granted Writing.Com, its affiliates and its syndicates non-exclusive rights to display this work.
Printed from https://www.writing.com/main/profile/blog/drschneider/month/9-1-2021