(5)

Wanna know what a frog has to blog about? Read on!
I have decided to give this blogging thing one more shot. I had one but it was filled with random stuff, not focused and I'd go days and weeks without making updates. Well, I joined a blogging group called Take Up Your Cross and they supply daily prompts, which I've noticed has helped tremendously. Thus far, I've only made two late entries!

Now, I've decided to up the anty, and I want to try the 30-day blog challenge. I've decided to create THIS blog specifically for that purpose! I think, getting daily prompts helps. It serves as a reminder to make a post and it also helps to focus my thoughts onto to something specific and not random things.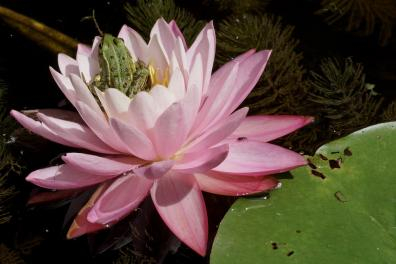 I am a F.R.O.G. this did not happen overnight but was a gradual morphosis that happened over the last 45 years of my life. No, I didn't turn into a brightly colored reptile that hangs out on a lilypad. A F.R.O.G is someone who Fully Relies On God.
It is my hope that my entries in this daily blog will reflect my F.R.O.G personality and lifestyle and maybe, just maybe some of you will decide to become F.R.O.Gs as well!

January 10, 2023 at 2:41pm
Writing with my tablet again so will keep it simple. Sometimes, I love my husband more than words can express.

It is very apparent we have mice. Yesterday, hubby was searching in the closet for something I asked for and he disturbed a .mother mouse and her nest of babies. The mother mouse jumped at him and ran up his arm. He said a string of words I can't repeat unless I change my rating to way over 18.

I'm a horrible wife ....I admit... instead of going into "protect hubby" mode...I went in to a fit of laughing so hard I cried. I'm sorry, really I am...but the look on his face was just so comical😆🙄

Anyway, later that night I went on Amazon and found a box of 20 basic .once traps for ten bucks..but told hubby HE has to check the traps and throw them out. He looked at the traps and said, "But honey, those will kill them." I explained the cost of the live traps have gone up.

This morning he handed me some money and told me get the live traps. He said he got to thinking if we killed a mama mouse, the poor babies would suffer before they too died. He shook his head at me and said " All life, great and small is a precious gift from God."

I married a kind hearted soul💗🕊💗

(I've also noticed he's peeped in on those babies at least twice that I know of)







© Copyright 2023 Shadow Prowler (UN: wordgeek at Writing.Com). All rights reserved.
Shadow Prowler has granted Writing.Com, its affiliates and its syndicates non-exclusive rights to display this work.
Printed from https://www.writing.com/main/profile/blog/wordgeek/day/1-10-2023