(5)

Wanna know what a frog has to blog about? Read on!
I have decided to give this blogging thing one more shot. I had one but it was filled with random stuff, not focused and I'd go days and weeks without making updates. Well, I joined a blogging group called Take Up Your Cross and they supply daily prompts, which I've noticed has helped tremendously. Thus far, I've only made two late entries!

Now, I've decided to up the anty, and I want to try the 30-day blog challenge. I've decided to create THIS blog specifically for that purpose! I think, getting daily prompts helps. It serves as a reminder to make a post and it also helps to focus my thoughts onto to something specific and not random things.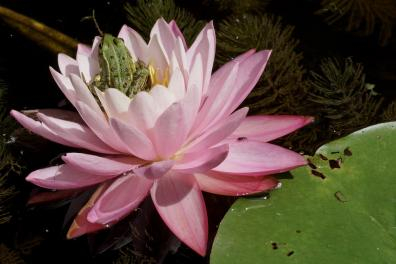 I am a F.R.O.G. this did not happen overnight but was a gradual morphosis that happened over the last 45 years of my life. No, I didn't turn into a brightly colored reptile that hangs out on a lilypad. A F.R.O.G is someone who Fully Relies On God.
It is my hope that my entries in this daily blog will reflect my F.R.O.G personality and lifestyle and maybe, just maybe some of you will decide to become F.R.O.Gs as well!

November 21, 2022 at 10:49am
I'm writing this on my tablet so it might be pretty short. I mentioned on a news feed post I'm doing a bit of baking today. Guess I'm giving out a lot of pies and fudge this year! But now, mostly for my sake I want to map out the rest of my week.

Tomorrow will be fairly easy. I planned to do a Mexican themed meal BUT...the elderly man my husband helps sometimes surprised us with a monster bird. A 24lb turkey!! I don't exactly have a pan big enough... So I'm improvising by putting the bird in my casserole baking dish then placing that on a cookie sheet and wrapping everything in foil. Hopefully it won't drip everywhere. The bird is way bigger than the baking dish. Once its cooked I can debone it. Then will bake cornbread.

Wednesday. I will devote to making a double pan of dressing. Since I had not planned on a traditional Thanksgiving meal, I didn't buy bread for dressing. Soooo thankfully I bought two bags of plain bagels. Ill toast them and add to the cornbread to make dressing. Hopefully that will work. Ill also make fruit salad. Made a few days ahead of time gives the flavors time to .mix💗

Thursday all ill need to do is heat up the turkey, make gravy, and bake the dressing. I've got five pounds of fresh sweet potatoes and instead of making candied yams I'm going to make fried sweet potatoes and onions like my Grandma used to make. I've got some fresh green beans that hubby offered to snap for me. (He's so xweet) and ill make Southern style green beans.

Our elderly neighbor and his brother will come eat with us and help us give out all the pies. Sometimes, our best laid plans get tossed out the window but it's worth it if it makes an old man smile.
© Copyright 2023 Shadow Prowler (UN: wordgeek at Writing.Com). All rights reserved.
Shadow Prowler has granted Writing.Com, its affiliates and its syndicates non-exclusive rights to display this work.
Printed from https://www.writing.com/main/profile/blog/wordgeek/month/11-1-2022