(5)

Wanna know what a frog has to blog about? Read on!
I have decided to give this blogging thing one more shot. I had one but it was filled with random stuff, not focused and I'd go days and weeks without making updates. Well, I joined a blogging group called Take Up Your Cross and they supply daily prompts, which I've noticed has helped tremendously. Thus far, I've only made two late entries!

Now, I've decided to up the anty, and I want to try the 30-day blog challenge. I've decided to create THIS blog specifically for that purpose! I think, getting daily prompts helps. It serves as a reminder to make a post and it also helps to focus my thoughts onto to something specific and not random things.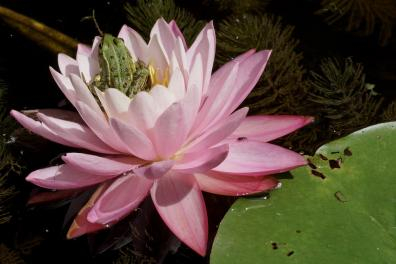 I am a F.R.O.G. this did not happen overnight but was a gradual morphosis that happened over the last 45 years of my life. No, I didn't turn into a brightly colored reptile that hangs out on a lilypad. A F.R.O.G is someone who Fully Relies On God.
It is my hope that my entries in this daily blog will reflect my F.R.O.G personality and lifestyle and maybe, just maybe some of you will decide to become F.R.O.Gs as well!

February 26, 2023 at 1:38pm
Never again will I tell my husband to "surprise me" when he asks what I want to drink. Normally, this isn't a problem. Normally he brings me a ginger ale, sprite or even an orange soda. I only allow myself one 12oz can of soda per week. So, its a treat.

This morning however, my hubby returns and proudly hands me a 20oz bottle of limited edition PEEPS PEPSI. 🐤🐤🐤🐤🐤That's right someone actually thought marshmallow flavored Pepsi was a good idea. Against my better judgement, I took a sip. It was like drinking liquid cotton candy. I managed two sips and gave the rest to hubby who actually likes it.

I married a weird man! 😂
February 19, 2023 at 8:54am
Yesterday my husband was a hero and really worked his butt off for me. We completed the last bit of spring cleaning which included boiling water and scalding the floor, cleaning the windows inside and out, hanging my spring curtains, gathering up all my whatnots in the kitchen so k could wash them (dusting is good but every few .months I like to give them a good wash down), he took out the trash and scrubbed the oven. He even went to get groceries (probably to escape the cleaning) and helped make dinner.

🌟 🌟 🌟 Today is reward day, only he doesn't know it yet. He knows I'm sending him to the store shortly when they open and I've given him a choice. Pizza or nachos...he is to get shat we need to make one of those. I discovered they are playing ALL THREE of his all time favorite movies today. Smokey and the Bandit one, two and three! While he's at the store, I'm going to set up the popcorn popper and Ive got a homemade banana pudding ready for him. All he has to do this afternoon is kick back in the couch and watch Burt and Sally with me😇😇😇
© Copyright 2023 Shadow Prowler (UN: wordgeek at Writing.Com). All rights reserved.
Shadow Prowler has granted Writing.Com, its affiliates and its syndicates non-exclusive rights to display this work.
Printed from https://www.writing.com/main/profile/blog/wordgeek/month/2-1-2023