Printed from https://www.writing.com/main/view_item/item_id/1757874-Mary-Magdalene
| | |
| --- | --- |
| | A Bio and my views about Mary Magdalene. |
I have always found Mary Magdalene fascinating. I have always liked her and she is a favorite of mine. I was Mary Magdalene for The Lenton Adventure. I was in character and I loved being her. The abilty to love, be loved and be faithful and loyal to Jesus was my character's most important trait.My character realized that her life had meaning. Jesus changed this person for the better and I hope and know Jesus can do the same for me.

Mary Magdalene is one of the most important women associated with Jesus during his ministry. She has been considered a patron of preaching and ministry. It is believed that her being a prostitute is a historical reformation of character.

Jesus cleansed her of seven demons. This is considered a healing of illness, not sin. Mary walked with Jesus, was there at his cruxification and later when he rose out of the tomb. She was the first person to see the resurrected Christ.

Mary was an "The apostle to the apostles." She is portrayed as a visionary and leader of the early movement who was loved by Jesus more then the other disciples. She had a deeper understanding of his teachings. She is proclaimed a saint by some religions.

It is believed that Mary washed Jesus' feet with her perfumed hair.It is believed that Mary sought petinence for her sins as a prostitute and after being cleansed of her sins by Jesus and being forgiven, Mary Magdalene had a new rebirth and became a follower of Jesus. Mary loved Jesus as a man and Jesus loved her, too but didn't act on those feelings. He was put on earth to save others and tell them about God, forgiveness and Heaven and how to get to Heaven and be a servant to God. The song "I Don't Know How To Love Him" as in Andrew Lloyd Weber's "Jesus Christ Superstar sticks in my mind. Mary is singing about how she loves Jesus romantically. I love this song and I could feel for Mary. She loved Jesus completely.

When Mary was invited to a dinner after Jesus' death, she presented an egg to Emperor Tiberius. She told him that "Christ is risen", the Emperor laughed. The egg turned bright red. A basket of eggs were presented at the cross by Mary Magdalene and Jesus' mother Mary and they turned bright red at the cross by the blood of Christ.

Mary Magdalene was one of the three Marys that walked with Jesus. Mary has been considered the original Apostle. It is believed that she always delivered special messages from Jesus. It is argued that being possessed by seven demons that she is more a victim then a sinner. Mary always wore her long hair down without a covering. She is believed to have been a red head.

I believe that Mary was cleansed of her sins by Jesus and she loved Jesus as a man and dedicated her life to him and God. She was happy to be a servant of God, a disciple and that Jesus loved her and was her best friend. Mary was happy to have Jesus and to be given a second chance at life and never meant to become a saint. Mary Magdalene. One of the most important women associated with Jesus during his ministry.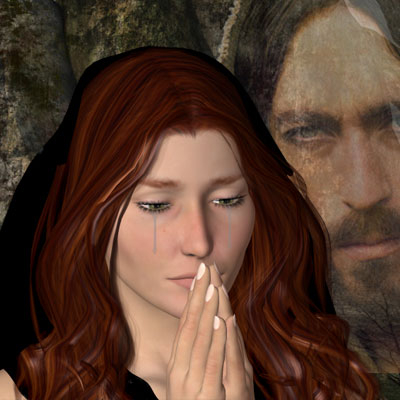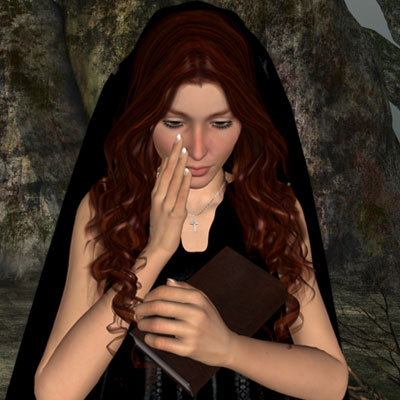 © Copyright 2011 Princess Morticia Megan Rose (tigger at Writing.Com). All rights reserved.
Writing.Com, its affiliates and syndicates have been granted non-exclusive rights to display this work.
Printed from https://www.writing.com/main/view_item/item_id/1757874-Mary-Magdalene