Printed from https://www.writing.com/main/view_item/item_id/1810077-Jane-Austen-and-Her-Stories-Poem
| | |
| --- | --- |
| | Prose about Jane Austen and her stories. |
Pride and Prejudice.
Mr. Darcy was the most handsome
and arrogant man around
but love changed him into a caring soul.

Elizabeth loved Mr. Darcy
and it started out as hate.
A smile, a casual look, a kind word-
changed hate to love in a heartbeat.

Emma. A matchmaker for sure.
She wanted no man of her own
but her best male friend was the
love of her life and she surrendered.

Sense and Sensibilty.
A love story that isn't my favorite
but Jane Austen wrote it and
Jane bought life and love to this story.

Northhanger Abbey.
A big fancy castle with a
hint of darkness and so spooky.
A young woman falls in love.

A young man's rich snooty father-
felt the woman wasn't good enough.
The young man turned his back on his
riches and inheritance to be with this woman.

Lady Susan. A woman wants to marry off
her daughter and find a man herself. The
movie Love and Friendship bought this story
to life. I really like this Jane novel now.

I get lost in Jane Austen's stories.
Too bad Jane never found her own true love.
She found happiness in her stories.
Thank you Jane for sharing your romances.

I love to write romance.
If Jane were here, I hope she would approve.
Jane Austen. You inspire me.
A favorite author of mine. Thank you, Jane.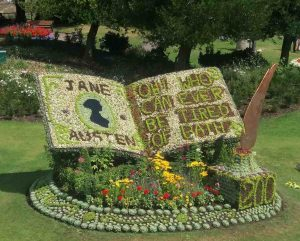 ** Image ID #1767030 Unavailable **


© Copyright 2011 Princess Megan Rose (tigger at Writing.Com). All rights reserved.
Writing.Com, its affiliates and syndicates have been granted non-exclusive rights to display this work.
Printed from https://www.writing.com/main/view_item/item_id/1810077-Jane-Austen-and-Her-Stories-Poem