Printed from https://www.writing.com/main/view_item/item_id/1970167-Links-Of-Gold
(10)

by

Brenpoet

My late Daughter's lost Wedding rings are miraculously returned to her grieving Husband.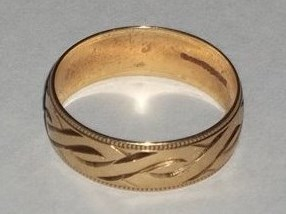 Links Of Gold

As part of Lucy's treatment plan
The Doctors sent her for a scan,
She took her rings and put them by
Within her handbag safe to lie.

Somehow her Wedding-rings got lost
And heartache was the greatest cost,
Her bag and home she searched with care
But never found them anywhere.

Her Husband dreaded Christmas Day,
While other folks were bright and gay,
When Lucy's best friend's handbag broke
He said "Take Lucy's," as a joke.

He went to wrap it up for her,
But thought he'd better check for sure,
And there inside for all to see,
Two rings shone brightly as could be.

This unexpected Christmas gift
Has given broken hearts a lift,
For evermore they will remain
Together on a golden chain.



© Copyright 2014 Brenpoet (brenmaple at Writing.Com). All rights reserved.
Writing.Com, its affiliates and syndicates have been granted non-exclusive rights to display this work.
Printed from https://www.writing.com/main/view_item/item_id/1970167-Links-Of-Gold