Printed from https://www.writing.com/main/view_item/item_id/2055743-Jane-Austen-Newsletter-September-2015
| | |
| --- | --- |
| | What's new with Jane Austen. This newsletter won a Quill Award. |
This newsletter won a Quill Award for Best Romance. I share this honor with Jane Austen.


Jane Austen Newsletter
Editor and Host: Princess Megan Rose


Hello Everyone! Welcome to another Jane Austen Newsletter. WDC is having their 15th Birthday. Happy Birthday WDC! I have been here over thirteen years and it is a great place. I know you agree.




Have you seen our newest Merit Badge? Darcy and Elizabeth. I just love it. Jane Austen Group Members and all WDC Members.. If you want this Merit Badge, review any three Jane Austen newsletters or write an entry in the Jane Austen Challenge or a donation of 35,000 Points will get you this Merit Badge.

Jane Austen Newsletters (ASR)
This folder is for my Jane Austen newsletters.
#

1313701

by Princess Megan Rose
Pemberly Points Account (E)
Where points will be kept for Jane Austen Group and Jane Austen Writing Challenge.
#

2050259

by Princess Megan Rose
Jane Austen Writing Challenge (ASR)
A Writing Challenge for all Jane Austen Fans.
#

2017404

by Princess Megan Rose


This group is a year old. We were nominated for a Quill Award and the Jane Austen Merit Badge is up for grabs in one of the Birthday Challenges and has been in the Wodehouse Challenge two times. The Jane Austen Challenge was part of the Seasonal Romance Writing Contest. We do get noticed! I hope our group will grow.

When I wrote the above, this newsletter hadn't won the Quill Award, yet. As of September 26, 2016, this newsletter won the Quill Award a few months back. I am still on Cloud Nine. Thank you. So feel free to read the rest of this newsletter.


I was thinking about some Jane Austen characters are underused and ignored. Like Mrs. Weston, Emma's governess. Emma loved her like a mother when she was little. Emma grew up and started to treat her like a servant. They were so close when she was she little. Did Emma outgrow her governess? Governesses and Mammies were better mothers to their employers children then there actual mothers were. Emma's mother had died and you would think Emma would always want the bond with her governess. Mrs. Weston was like her mother and then is ignored by Emma when she grows up. Sad.

Fanny Price of Mansfield Park. She wasn't outspoken or daring. She loved Edward from a afar. She was the poor relation. She stayed in the background and took what she could get. She came into her own in the end. Not being raised by your parents has some affect on a person. I was raised by my grandparents more then I was my own parents. Dad was in the Air Force, went to Viet Nam and my mother and I stayed with my grandparents and when Dad came home, I spent every summer with my grandparents while my parents were elsewhere. I am trying to make a point here not get off the subject. I get Fanny. My grandmother was raised by her aunt because her aunt couldn't have children. Grandma had brothers and sisters but wasn't raised with them. I turned out alright. I found out I had a half sister later on. Maybe I need to write a novel about this part of my life. Ever notice how we can read a character in a book that we can relate to?

Mary Bennett of Pride and Prejudice. She was plain and the least attractive of the five daughters. She wore glasses and all she had going for her is she was smart. She learned a lot from reading books. She wasn't her parents favorite. Jane and Elizabeth were close and Lydia and Kitty were close. Where did this leave Mary? She felt like an unwanted sister. A mistake. Mary depended on knowledge to get her through life and find a husband. I wrote a story about Mary and I gave her a happy ending. I felt sorry for her.

A copy of "Pride and Prejudice" was found in a bookstore in Preston, Lanshire England. It sold for L400. Which is over 800.00 in American money. I think this is right. Why is this book worth more then Jane's other books? Supposedly, it was one of the first copies. The book had been buried under books and can you imagine what a find this would be? I would love it!

I don't know if any of you have discovered or like to color but Stress Relief Color Therapy Coloring Books for adults are the in thing. These books have detailed features and you can choose from flowers, butterflies, Goddesses, animals, house designs, Mermaids and any subject of any kind. You use colored pencils not color crayons! Trust me on this one. Where am I going with this, you ask? I bought a Jane Austen Pride and Prejudice one! The illustrations are from Jane's original novel and a short one page chapter accompanies each one. I have been doing a lot of this new coloring thing and I was so happy to find this! I got mine at Barnes and Nobles on line. You can also find these books on Ebay and Amazon. A coloring book of Kate Middleton comes out in November. I can hardly wait.

Bath, England had their recent Jane Austen Festival where everyone dresses up like Jane Austen characters and I wish I could have been there. Maybe someday?

This is all for this month. Hope you have enjoyed this issue. Feel free to e-mail me and does the new badge tempt you?

** Image ID #2014344 Unavailable **
** Image ID #1718831 Unavailable **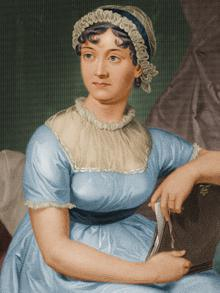 © Copyright 2015 Princess Megan Rose (tigger at Writing.Com). All rights reserved.
Writing.Com, its affiliates and syndicates have been granted non-exclusive rights to display this work.
Printed from https://www.writing.com/main/view_item/item_id/2055743-Jane-Austen-Newsletter-September-2015