Printed from https://www.writing.com/main/view_item/item_id/2206513-The-Purple-And-The-Red
(4)

by

Brenpoet

A Soldier and his horse in World War 1.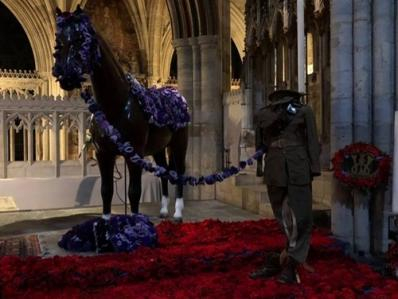 The Purple And The Red

He joined up when he heard the cry
To serve his country, do or die.
Though under-age, he went to fight
For all his generation's right.

They paired him with a noble horse,
Together, through the conflict's course
They rode through shrapnel, fire and shell
And braved the onslaught, braved the hell.

Wounded, blinded, in the trench,
Lying in the mud and stench,
They gave their lives to set us free
And formed a bond eternally.

Now honoured in a proud display,
Remember man and horse today
And see the tribute to the dead,
Poppies purple, poppies red.


,
© Copyright 2019 Brenpoet (brenmaple at Writing.Com). All rights reserved.
Writing.Com, its affiliates and syndicates have been granted non-exclusive rights to display this work.
Printed from https://www.writing.com/main/view_item/item_id/2206513-The-Purple-And-The-Red