Printed from https://www.writing.com/main/view_item/item_id/845648-The-Kitten-Who-Wanted-A-Home
| | |
| --- | --- |
| | A kitten leaves the farm and her mother to find a little girl to love her. |
Tigger was a cute seven week old grey, black stripped kitten with patches of orange who lived in a big barn with her mother. She was the runt of the litter. Her brothers and sisters had been given away. One of her brothers was taken away by a little girl that Tigger wanted to be adopted by. She decided to find her own little girl. She told her mother, Nellie, who looked just like Tigger, of her plans to leave to find a little girl. "What's wrong with staying with me? You are the only kitten I have left."

"I know mother but Farmer Jones doesn't pay much attention to us. Little girls can be so loving and fun. I want one for a friend, mother. I have to do this even though I love you. Maybe someday, you can live with me and the little girl I find."

Nellie washed Tigger's face as a sign of affection. The next day, Tigger rubbed her head with her mother's head and licked her chin and left. She walked through the woods and saw a little brown bunny playing. "Hi. I'm Tigger. Who are you?"

"I'm Brownie. Would you like to play?" Tigger and the bunny chased each other for awhile but Tigger wanted a little girl to have fun with and she told Brownie this. "Why?" asked Brownie.

Tigger sighed and answered. "I want to be loved and cared for by a cute, little girl."

"You could stay with me and live in a tree and we could run in the woods and steal carrots from Farmer Jones garden."

"No. I lived at Farmer Jones and I don't like carrots. It was nice meeting you but I am off to find my little girl."

Tigger ran off and Brownie hopped away. She walked through the woods to a clearing where she saw a pretty little girl with red hair playing with some black kittens. Tigger was so happy as she started to run to the little girl but a big black cat, the size of her mother ran up to Tigger and said:"What do you want? This is my little girl and my children. You are not welcome here."

"I want to be part of your family and I want the little girl to be my friend, too. I want to stay."

The black cat hung her head and sadly said:"Look, my children are all being adopted out. You will have to find another girl. I'm sorry."

Tigger told the black cat how sorry she was and left with a broken heart. She missed her mother. She was having no luck trying to find a little girl of her own. Sudddenly, a big brown dog came out of no where and chased her. Tigger was so scared that she ran up a tree. A squirrel sat on a limb eating an acorn and asked Tigger what she wanted.

"I want a little girl to love me and adopt me. I'm not having much luck. That dog chased me and I climbed up here to your tree to get away from him."

"You are welcome to stay with me. Would you like an acorn?"

"No thanks." said Tigger. The dog had left so Tigger climbed down from the tree. It was getting dark and she was getting hungry. Why hadn't she stayed in the barn with her mother? She walked back through the woods but didn't know where to go. She kept walking through the woods until she saw a little girl sitting on a swing. Tigger went up to the swing and the little blonde girl exclaimed: "A kitten!" she ran up to Tigger and picked her up. Tigger just purred. SHE HAD FOUND A LITTLE GIRL TO LOVE HER. Just then five other little girls came up out.

The one little girl said:"Lisa, where did you find the cute little kitten?"

"She appeared out of no where. I want to keep her!" Just then a elderly woman dressed in black and white, wearing a long black veil type hat came out. This was Sister Joyce. "What are you girls doing out here? It's time for evening devotions."

Lisa spoke up. " Sister, we found a cute little kitten. Can we keep her? I love her."

Sister Joyce was stern and rough but she loved the children she was in charge of at the Angel Guardian Orphanage. She looked at the kitten as Tigger meowed at her. She patted the kitten then she reached out and held Tigger to her. Tigger cuddled up to her. Sister Joyce's heart melted. "Of course, we can keep her." The Nun had once had a kitten like her when she was a little girl. Tigger felt so lucky. She didn't have just one little girl to love her. She had fifteen plus four Nuns. She was one happy little kitten! She was the luckiest kitten in the world. One day, one of the Nuns found Tigger's mother out in the woods and bought her to the Orphanage. Tigger and her mother were reunited as they smelled noses and rubbed against each other. Nellie decided to stay and there were two cats at the Guardian Angel Orphanage. Tigger and Nellie lived long, happy lives and had good lives here with the children and the Nuns.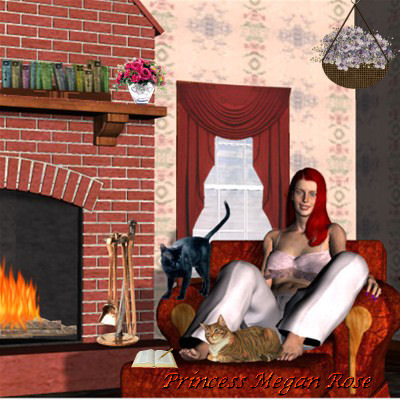 © Copyright 2004 Princess Megan Rose (tigger at Writing.Com). All rights reserved.
Writing.Com, its affiliates and syndicates have been granted non-exclusive rights to display this work.
Printed from https://www.writing.com/main/view_item/item_id/845648-The-Kitten-Who-Wanted-A-Home