Printed from https://www.writing.com/main/books/action/view/entry_id/1017554
#
1017554
added
September 19, 2021 at 9:35pm
Restrictions:
None
Studebaker Dreams - part 1

I spent the summer I turned 14 working for my uncle Roy. The cattle market was up, and he leased some additional acreage to expand his herd. I mostly moved sprinkler pipes and drove tractor in the hayfields. I was willing, but too scrawny, to keep up with the adults throwing calves for branding or stacking 90 pound haybales overhead.

There wasn't any formal agreement on hours or pay, I just went to work as needed and felt very grown-up to do so. The best part of the job was the 1953 Studebaker pickup that was at my disposal for getting to the various fields where I worked. It had vacuum operated windshield wipers, a 'three on the tree' gearshift, and a worn-out steering linkage, but it was a taste of real freedom. No one put any limits on when or where I could go. At least, it seemed that way at the time.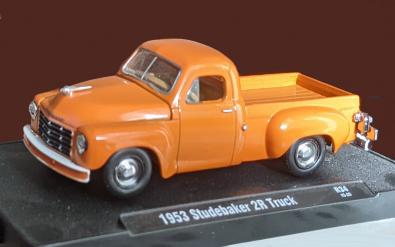 No, I didn't have a driver's license, but I'd already been driving for several years. Most of us farm kids started on the tractor by age eight or ten, and I'd moved on to pickups and farm trucks as soon as I could see over the steering wheel. We lived ten miles from a small town and I could get everywhere I needed to be without ever seeing a cop.

The Studebaker had a tense family history. My black-sheep cousin had convinced my uncle to buy him the pickup, with the understanding that Jerry would pay him back when he got a job. The job came through, but Jerry didn't. Uncle Roy lost patience, managed to repossess the pickup, and gave me strict instructions not to lend it to Jerry. As if I'd let that goofball drive my pickup!

I don't remember how many hours I worked for Roy that summer, maybe two hundred? I had my own chores at home and I still helped with putting up our own hay, of course. I do remember the thrill of watching uncle Roy sign over the pickup's title to my dad. It was mostly payment for a summer's worth of labor, but I think it was partially to spite my cousin. Was it worth two hundred hours of hard work? Probably not, but I never let on that I figured I had put one over on uncle Roy.

2
Like
•
Comment
•
View 2 comments
© Copyright 2021 Bats Whirling 'Round (UN: tgifisher77 at Writing.Com). All rights reserved.
Bats Whirling 'Round has granted Writing.Com, its affiliates and its syndicates non-exclusive rights to display this work.
Printed from https://www.writing.com/main/books/action/view/entry_id/1017554