| | |
| --- | --- |
| | A clumsy attempt at writing, including G.O.T. 2017 and Prep NaNoWriMo 2019 |
#
895214
added
October 22, 2016 at 3:12pm
Restrictions:
None
Why do I write? On motivation.

Acme ~ 10 year WdC Anniversary
asked me why do you write? So, here is my answer referring to my second blog entry almost 5 months ago "Prompt to write"
. I write because I must!

It is a need inside me that's been there for a very long time but had never fully blossomed until I got inspired at WdC almost five months ago. My Muse was hiding and the mere use of this foreign language English/American and the inspiration of WdC and its writer's community brought it all back.

I write because that's who I am. It gives me a new identity after losing my identity as a Theoretical Psychologist more than ten years ago. It gives me power, strength and the desire to better myself. It fills a deeply felt need to be part of the group of people I mostly admire: writers, poets, artists.

It gives me the will and stamina to want to come out of bed every morning and greet the day. What new worlds are there to create? I love it that there is first a blank page and me hovering nervously over it, afraid it won't work today… and then as by a miracle, the words come out and merge into a blog, a poem, a short story.

To me, this is sheer heaven and I am still a little bit afraid it's not going to last. But I build my confidence day by day. Interacting with fellow writers helps, entering and winning contests helps. Bragging about it in the Newsfeed helps. I am feeling so good on this site and I am so thankful I found Writing.com. Without it, my life would be so much less enjoyable.

For the first time in a long time, I am having fun, a word that almost had lost its meaning to me. So, although it scares me, I want to exit my comfort zone and learn to be a better writer. And I want and need to allow myself the fun that goes with it. So there you go. My reasons for writing.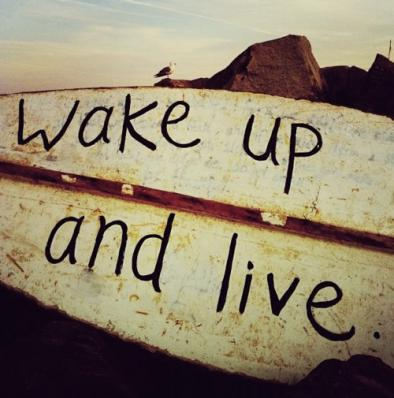 © Copyright 2016 WakeUpAndLive‍‍~December (UN: wiesblaize at Writing.Com). All rights reserved.
WakeUpAndLive‍‍~December has granted Writing.Com, its affiliates and its syndicates non-exclusive rights to display this work.
Log in to Leave Feedback
Printed from https://www.Writing.Com/view/2094067