Printed from https://www.writing.com/main/books/entry_id/759864-Sept-1-2012
| | |
| --- | --- |
| | poems inspired from the prompts from the blog "The Sunday Whirl". |
#
759864
added
September 2, 2012 at 11:10am
Restrictions:
None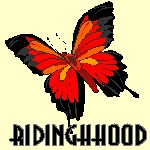 I enjoy writing to prompts. The prompts provide a framework, a skeleton, to hang your imagination upon. I've run across a blog called The

Sunday Whirl . The blog's author always provides an interesting word cloud to spark your creativity. Just google it. The following words

inspired a birthday poem for my friend Fran. You should understand that Frannie is a former go-go dancer and is now a born-again renegade

Christian.


Words: link, recipe, operator, chain, fence, rose, forgiven, dusk, pencil, empty, trace, essentials

Serendipitously, Fran's presents were all food and cooking related.



Cooking with Fran

Fran knows the essentials of a recipe for life.

1. Discard all prior operating rules.

2. Know that you are forgiven.

3. Be a rose blooming through a chain link fence.

4. At dusk, with a purple pencil, trace the empty chambers of your heart.

5. Place the finished product before the Operator in charge of the universe.









© Copyright 2012 ridinghhood--p. boutilier (UN: ridinghhood at Writing.Com). All rights reserved.
ridinghhood--p. boutilier has granted Writing.Com, its affiliates and its syndicates non-exclusive rights to display this work.
Printed from https://www.writing.com/main/books/entry_id/759864-Sept-1-2012