Printed from https://www.writing.com/main/books/entry_id/838808-Lost-in-FreeFall--A-work-in-progress
(2)

A Shiny New Start to 2015(Never mind it's now 2018!) Oops 2019! Writing why and wherefore.
#
838808
added
January 16, 2015 at 9:52pm
Restrictions:
None
Lost in Free~Fall ( A work in progress...)

Hi just a short note--super tired tonight. Another busy week. So my writing goal was to finish first chapter. I did make some progress,but not done. Still with all going on,I should be glad did edit and add a few words over the week. I'm so behind in getting back to folks & thanking them for giving nice feedback here,on Facebook,Twitter & Google. Am so thankful so many are part of my world, The writing is getting there,(As Steven King wrote "writing is done a word at a time") Man was he right! Have a great weekend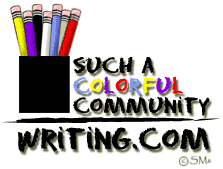 © Copyright 2015 Merry d prays for peace ✌️ (UN: dlspiritwriter at Writing.Com). All rights reserved.
Merry d prays for peace ✌️ has granted Writing.Com, its affiliates and its syndicates non-exclusive rights to display this work.
Printed from https://www.writing.com/main/books/entry_id/838808-Lost-in-FreeFall--A-work-in-progress