Printed from https://www.writing.com/main/books/entry_id/929760-Wow-March--10-teeth-out
(2)

A Shiny New Start to 2015(Never mind it's now 2018!) Oops 2019! Writing why and wherefore.
#
929760
added
March 3, 2018 at 2:47pm
Restrictions:
None
Wow March & 10 teeth out.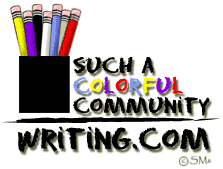 11:20 pm & my alarm on phone goes off 6 am.Cant sleep mouth is beyond hurting. I don't have to get up at this point my sis sez. The grand kids will be woken by her. Fed washed up put on school bus etc.
I'm working on getting better and finding my writing path once again. Beyond tweeting though it helps to be part of good things and decent folks helping the planet.
There's a new print magazine called Broccoli. Written by woman for women who smoke weed! It's artsy and I asked for writing guide lines and for photos. Going to email the editor. Been years since I was published in the Flagpole Athens GA.
Life is hectic raising kids 13 & 7! No s***! Ore weather sucks & we want to move to the South again. Nothing to do here like there was for kids.
Eugene OR has changed so much during the past 20 years or so. I'm nervous and scared about "putting myself out there". It's easier to write online, to tweet for justice share ideas and laughs. To blog and touch base with my friends and family on Facebook. Submitting is different.
My sis & others want me to do what makes me happy.To write,go back to ballet class. I have PTSD along with other things. Been working with couselors 40 years. Wanted to get rid of issues like panic attacks. Doing ♥️🎵🌲🕯️🎸 better,still struggling yet always trying to help others. Thanks y'all for listening. Good night
© Copyright 2018 Merry d prays for peace ✌️ (UN: dlspiritwriter at Writing.Com). All rights reserved.
Merry d prays for peace ✌️ has granted Writing.Com, its affiliates and its syndicates non-exclusive rights to display this work.
Printed from https://www.writing.com/main/books/entry_id/929760-Wow-March--10-teeth-out