(1)

An image that reminded me of Prince.
I got a 1k gift certificate for
Miss Dragon's Pet Shop (E)
Come get your pet-themed sigs!
#

2050695

by ~Dragon~
.
There is a plethora of images for pets of all kinds.
I still remember and miss Prince who was taken away by feline leukemia.
Drop by the shop and see what you think.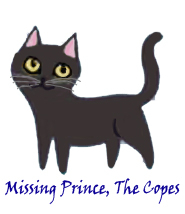 © Copyright 2015 Steve adding writing to ntbk. (UN: copenator at Writing.Com). All rights reserved.
Steve adding writing to ntbk. has granted Writing.Com, its affiliates and its syndicates non-exclusive rights to display this work.
Log in to Leave Feedback
Printed from https://www.Writing.Com/view/2058509