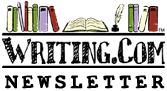 Action/Adventure





This week:

Edited by: Nikola says BOO!
More Newsletters By This Editor



1. About this Newsletter
2. A Word from our Sponsor
3. Letter from the Editor
4. Editor's Picks
5. A Word from Writing.Com
6. Ask & Answer
7. Removal instructions





The follies a man regrets most in his life are those he didn't commit when he had the opportunity.
~Helen Rowland

Only those who dare truly live.
~Ruth Freedman

Adventure is worthwhile in itself.
~Amelia Earhart

The world is all gates, all opportunities, strings of tension waiting to be struck.
~Ralph Waldo Emerson




Certain situations demand dramatic music. Now you have it!

Get it for Apple iOS, Android or Kindle Fire.
Creative fun in the palm of your hand.





Make Me Feel It!



How many times have you heard, "Show, don't tell?" Well, you are going to hear it again!


In any genre, this advice is meaningful. In Action/Adventure, it's downright imperative!

When you read an action/adventure item, do you want it all told to you? Do you want it reported to you? Or, would you rather feel what is taking place? Yeah, me too.

When writing, choose words that make your readers feel a part of what is taking place. A handy, dandy thesaurus is a wonderful tool for assistance in finding the perfect action-packed word. Don't become lazy, though, you want to keep your readers' interest throughout. Show the action. Make your readers feel the adventure!

Opt for active verbs, utilize the five senses. If you write about the ocean, describe the sky, the salty smell of the sea, the mist upon your character's face, the waves crashing against the jagged rocks. Can you feel the sea now? Did I take you there?

If you can cause your readers to lose themselves in your words and be taken away by the adventure and the action, you have succeeded with flying colors!

Until next time, seek the adventures in life!
Nikola says BOO!

** Image ID #1085952 Unavailable **






This time, I've mixed newer items with some oldies but goodies!


Invalid Item
This item number is not valid.
#1105318 by Not Available.
Invalid Item
This item number is not valid.
#1104906 by Not Available.
GIDEON (13+)
A mansion left as an inheritance. A mystery resurfaces...The fight for survival begins.
#1104358 by Kieth Bell
Invalid Item
This item number is not valid.
#712147 by Not Available.
Invalid Item
This item number is not valid.
#699072 by Not Available.
Invalid Item
This item number is not valid.
#696941 by Not Available.



Have an opinion on what you've read here today? Then send the Editor feedback! Find an item that you think would be perfect for showcasing here? Submit it for consideration in the newsletter!
https://Writing.Com/main/newsletters/action/nli_form



Don't forget to support our sponsor!






From Starr - Honored by Quill Noms!
: Nik, I admire your organizational skills. Mine consists of a pile of stuff I think I will need 'at hand', and another pile I thought I needed for something else a few months back. I am TERRIBLE when it comes to organization! :p

From schipperke
Nikola,
I was wondering what do to with my huge market book! Now I know! I had dog-eared the pages but it still was overwhelming. I will try your method.

From ~*~Leger~*~
:
Great organizational tips Nikola! I'm sure those who are more computer oriented could create spread sheets like your index cards. The resources are endless.
Leger~

From MarysTears
: Great idea with the card boxes! I'm going to the store for mine today!!! Thanks!


From Tehanu
: Oh, that's a smart idea! Very creative.

Awhile ago, I started an Excel file that holds information pertinent to my possible markets. That worked pretty well, too, but I lost interest. I really have to work on that again! And maybe have some fun color coding subject headings or something this time.


From Amelia
: Thanks for the interesting newsletter. Enjoyed your picks. Look forward to your next...Amelia


From billwilcox: Nikola,
I agree with your newsletter about being organized as a writer; but I tell ya, I'm one messy author! I've got crap scattered everywhere: on little pieces of paper, napkins, once I even used the lid of a cardboard shoebox.


From karabu
: Wow. You have way more dedication to being orginised than I've ever hoped for. I'm impressed.

I'm glad to hear that the card box suggestion is helpful to you, well, except for Bill.
I'm still working on mine and my desk is still a mess!




To stop receiving this newsletter, click here for your newsletter subscription list. Simply uncheck the box next to any newsletter(s) you wish to cancel and then click to "Submit Changes". You can edit your subscriptions at any time.