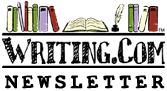 Mystery





This week:

Edited by: Joywitch
More Newsletters By This Editor



1. About this Newsletter
2. A Word from our Sponsor
3. Letter from the Editor
4. Editor's Picks
5. A Word from Writing.Com
6. Ask & Answer
7. Removal instructions





"Mystery is at the heart of creativity. That, and surprise."
Julia Cameron

Hello, this is Joywitch
, your guest editor this week.

Mystery is a resource, like coal or gold, and its preservation is a fine thing.
Tim Cahill



Writing.Com presents "Party Prompts", the iPhone app with an endless supply of dinner party conversation starters and inspirations!

Get it for Apple iOS.
Creative fun in the palm of your hand.





In this issue, I'll bring you my first favorite mystery character Arsène Lupin, created during the first half of the twentieth century.

During the popularity reign of Sir Arthur Conan Doyle in England, the French came up with their very own mystery writer whose work became just as fashionable throughout Europe. The name of that writer was Maurice Leblanc (1864-1941). Maurice Leblanc created a mystery character, Arsène Lupin. Arsène Lupin, however, was not only a mystery character. He was a character with a lot of mystery in him.

During my early teen years, I was in awe of Arsène Lupin, since my grandfather owned several volumes of his escapades. Some of the episodes used to get me so rattled and caused so many nightmares that the adults forbid me to read them. This was the first book banning in my life, but I still stole the volumes and read them in hiding. The character of Arsène Lupin captivated me, because he was not a run of the mill detective and did not use emblematic words like deduce as Sherlock did.

Actually, Arsène Lupin was not a detective at all; he was a thief who solved crimes. Yet, while he functioned on the unlawful side, he worked to help people. Plus, he had style. He did things with unheard of confidence and flair. The reader could never guess what he would do next or how he would do it. In addition, he always changed on purpose to mislead those on his tracks. These changes could be his address, his vehicles, his tools, the color of his hair, or the features of his face. He could be carefree or responsible. He could be ugly or handsome, but he was always a charming, romantic, and fascinating paradox. To confuse those who knew him as a vegetarian and a teetotaler, Arsène Lupin would dine on wine and steak, for example. Lupin liked to fool the policemen, especially his rival inspector Ganimard from the Sûrete; although, in the later stories, he did work with the police for the good of the public.

Leblanc, a prolific writer, inserted fantasy elements into some of the stories, driving the mysteries to edge on sci-fi and fantasy genres, but whatever Leblanc did, he pumped up the suspense to the maximum. The character of Arsène Lupin was born when a publisher asked Leblanc to write a story with a character akin to Holmes. The first story, Arsène Lupin, Gentleman Cambrioleur is a spoof of Sherlock Holmes's measured, deliberate style. In this story, Holmes arrives too late, since Arsène Lupin has already solved the crime. Leblanc's such use of Sherlock Holmes met with Doyle's disapproval but made Arsène Lupin rise to popularity. After this novel, Leblanc wrote twenty volumes of Arsène Lupin feats and then authorized Boileau-Narcejac mystery writing team to write five more sequels.

Writers created many other characters in different parts of the world after Arsène Lupin, and many movies and TV episodes featuring him also came into being. This is because, in mystery, plot is the most important element, and in the Arsène Lupin episodes, the richness of plot is extraordinary. In addition, the protagonist is a many-sided character who awes and entertains the readers.

Since Leblanc's works are in the public domain, you can very easily access most of the exploits of Arsène Lupin online. Europeans and especially the French still revere him. For those of you who can understand French, they have a special site for him. http://www.arsene-lupin.com/




Invalid Item
This item number is not valid.
#1461608 by Not Available.
Invalid Item
This item number is not valid.
#1461885 by Not Available.
Invalid Item
This item number is not valid.
#1462969 by Not Available.
Invalid Item
This item number is not valid.
#804885 by Not Available.



Have an opinion on what you've read here today? Then send the Editor feedback! Find an item that you think would be perfect for showcasing here? Submit it for consideration in the newsletter!
https://Writing.Com/main/newsletters/action/nli_form



Don't forget to support our sponsor!









*~*~*~*~*~*~*~*~*~*~*~*



Since I have no letters to answer, have a good time with these word search puzzles.



Invalid Item
This item number is not valid.
#1186688 by Not Available.
*~*~*~*~*~*~*~*~*~*~*~*



To stop receiving this newsletter, click here for your newsletter subscription list. Simply uncheck the box next to any newsletter(s) you wish to cancel and then click to "Submit Changes". You can edit your subscriptions at any time.