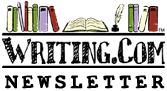 Poetry





This week: To blog or not to blog...

Edited by: Red Writing Hood
More Newsletters By This Editor



1. About this Newsletter
2. A Word from our Sponsor
3. Letter from the Editor
4. Editor's Picks
5. A Word from Writing.Com
6. Ask & Answer
7. Removal instructions



"Every poem can be considered in two ways--as what the poet has to say, and as a thing which he makes..."
C. S. Lewis
" Genuine poetry can communicate before it is understood. "
T. S. Eliot

Our art prompt generators use various mediums, time periods, art styles, colors, sketches, genres and words, unleashing an endless supply of fantasy to fuel your muse. Now you can have instant artistic inspiration and ideas right at your finger tips, whether online or off!

Get it for Apple iOS.
Creative fun in the palm of your hand.







Poetry Blog Part One: To blog or not to blog, is blog profit the question?



I've seen a few poetry blogs I enjoy and I've bookmarked a few of them. With the economy the way it is, I've wondered lately if this was an untapped revenue stream for me. I did some preliminary research and here are my thoughts so far.

There are good and bad blogs. Some are boring, some have inaccurate information, and some are obviously out for profit—and I haven't decided if I like that they are obvious about it. However, I don't think I'd want them to be sneaky about it either. Then there are others that make you laugh out loud (for real), entertain you, and give you useful information.

I know myself. This has got to be fun for me or I won't keep up with it—or I will resent the time I spend on it if I do keep up with it, which will still eventually mean that I will stop doing it. So, the first thing I need to do then is to make a list of things I know about and enjoy doing. From that list I need to decide if there is enough I know about that topic or would like to learn more about, or explore further that will be interesting enough for me to write about often enough to keep readers interested and coming back to read again.

Next, do I have enough time for this? The nice thing about this is it seems like you can really put as much or as little time into a blog as you want, as long as you are consistent—so your readers know what and when to expect a post from you. Be sure to factor in the time you will need to promote and maintain your blog.

Then, I will need to decide how I want to create profits through my blog. I could have advertising or sell a product (which could be a chapbook or other poetry items), or review things for pay—or a variety of all these things combined. There are other ways, but these seemed the most common for the beginning blogger.

~*~

Will there be a Poetry Blog Part Two? I'm not sure yet. I do know that if I decide to do this that I will follow the "do what you love and the money will follow" motto. I won't be in it for the big bucks, but if they come I surely won't turn them away. ;)

If you've gotten this far and you're sure you want to forge ahead with a blog, here are the things you'll want to think about next (and will be part of my Poetry Blog Part Two—if ever there is a part two, or three or four):

--Blog hosts
--Learning from others, what does and does not work
--Type of blog
--Ways to promote your blog
--Doing more than one blog?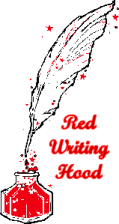 Theme: Poetry blogs and blogging




The Written Word [E]
Written work including the beginnings of a novel, short stories, poetry and my blog.
by Kaya






Blogs I like outside of WDC (the first two you may recognize as authors here):

http://vivianzabel.blogspot.com/
http://hollyjahangiri.blogspot.com/
http://robertleebrewer.blogspot.com/
http://www.writersdigest.com/editor-blogs/poetic-asides
http://janefriedman.com/2012/04/19/writing-on-the-ether-34/

There are more, but I have to dig them up again after the big laptop crash of 2011. These are the ones that come to mind right away and that must mean they were memorable.








Have an opinion on what you've read here today? Then send the Editor feedback! Find an item that you think would be perfect for showcasing here? Submit it for consideration in the newsletter!
http://www.Writing.Com/main/newsletters.php?action=nli_form



Don't forget to support our sponsor!








Have a question, answer, problem, solution, tip, trick, cheer, jeer, or extra million lying around?

If so, send it through the feedback section at the bottom of this newsletter OR click the little envelope next to my name Red Writing Hood
and send it through email.


Comments on last month's newsletter:


By: LinnAnn-Nano 7

Comment through email: The problem I have is that I live in a podunk town, and our library doesn't have much in the say of magazines that take poetry. Do you have any suggestions? Thanks for the hard work you put into this newsletter. LinnAnn

I have reference books and magazines that I start my research with (Poets & Writers magazine, Writer's Digest, etc.) and I also will do a Google search with "poetry submission guidelines." If you aren't familiar with the publisher, you might want to do some research on them before you submit work to them, and don't ever send in a reading fee. I will for some contests, but never to submit my work for publication.


By: J.Cat

Comment: "Poetry is a subjective genre." Publishing one is my objective. Both are my passions. Thanks for the leads.


By: monty31802
Comment: Good advice, enjoyable read.


By: monique30
Comment: I love your feedback. I would love to become a part time writer but can't always find the time but i am interested


I understand, Monique. That's the most difficult part for me--finding the time. Being a single mom of four, and education student with a job leaves me with precious little time to write.


Thank you all, as always, for the feedback!






To stop receiving this newsletter, click here for your newsletter subscription list. Simply uncheck the box next to any newsletter(s) you wish to cancel and then click to "Submit Changes". You can edit your subscriptions at any time.