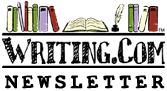 Contests & Activities





This week: Embrace Rejection

Edited by: Octobersun 2143433
More Newsletters By This Editor



1. About this Newsletter
2. A Word from our Sponsor
3. Letter from the Editor
4. Editor's Picks
5. A Word from Writing.Com
6. Ask & Answer
7. Removal instructions



There was a day, last week or a decade ago, that you typed "writing" into your search engine. You wanted to show off some of your poems, short stories, or maybe even get feedback for a whole novel. You found Writing.com.
On this site, you found all that you searched for: Portfolio space, helpful reviewers, encouraging groups, style and grammar lessons from peers. Nothing prepared you for the amazing bounty of:
Contests & Activities!

Writing.Com presents "Party Prompts", the iPhone app with an endless supply of dinner party conversation starters and inspirations!

Get it for Apple iOS.
Creative fun in the palm of your hand.

Embrace Rejection



Rejection, losing, harsh critique - it's all part of winning.

How is rejection part of winning? There is a saying that tells you not to consider the odds. How about we turn that on its head and actually consider the odds, but with a twist. Let me tell you about some people whom we regard as winners who started out as losers.

Stephen King submitted "Carrie" 30 times until he found a publisher for it. Have you ever heard of the Civil War epic "Gone With the Wind" by Margaret Mitchell? She got turned down 38 times. If you live in the United States, you've probably come across one or another version of "Chicken Soup for the Soul." Imagine Jack Canfield had listened to the 140 editors who rejected him. This list could go on and on, but I am sure you're getting my point. Rejection is nothing but a notch on your belt. The more notches, the closer to success you are!

Writing.Com allows us to put anything we want into our portfolio. Although this is a peer to peer review site, this is a form of self-publishing. You allow others to read your offerings with the benefit that you can actually get feedback on your writing and learn what works and what doesn't work. There really is only one way to lose in any contest on this site. It's not entering in the first place.

Yes, you may enter into ten contests and not get a single ribbon, merit badge, or even good star ratings. But you get seen. The contest host will at least let you know briefly what they liked and what they didn't like. Other members on the site may stop by and send you a review. Each of these entries you have under your belt started with you planning
writing
revising and editing
submitting (publishing)
. Wow! Look at you! You are a writer. An author.

Now that you have accomplished the most important requisites for success, stay with it. Keep writing and submitting. Keep getting turned down. Roll with the punches and get right back up. The contests page is full with member-run contests. So many personalities, so many tastes, so many possibilities and opportunities for you to get those rejection notches on your belt and come out a winner. There is that one reader who will "get" your story and like it above the others and put it in lights on their contest page.



Invalid Item
This item number is not valid.
#1790591 by Not Available.
Invalid Item
This item number is not valid.
#1865365 by Not Available.
Invalid Item
This item number is not valid.
#1300644 by Not Available.

They say loose lips sink ships. But sinking ships has never been so rewarding! The traditional game of Battleship returns to the Writing.Com community for its third round!

Invalid Item
This item number is not valid.
#1293022 by Not Available.

Hangman's gone virtual! Play and win big in the most creative raffle you'll ever enter! Game Seven has just begun :D

Invalid Item
This item number is not valid.
#1868219 by Not Available.

affordable cnotes that I wish to find used.

Check out "Writing Contests @ Writing.Com"
and "Activities @ Writing.Com"
for more!



Have an opinion on what you've read here today? Then send the Editor feedback! Find an item that you think would be perfect for showcasing here? Submit it for consideration in the newsletter!
https://Writing.Com/main/newsletters/action/nli_form



Don't forget to support our sponsor!




In response to my last newsletter "Time Management"
Fyndorian
wrote: Excellent newsletter! Loved it! I also wanted to thank you for using "WDC Anthology Pre-order/Order"
in the editor's picks. The excitement that is growing from this anthology is just so much fun!

dblameck (David)
wrote: I believe you have time when you give time. Since I made the commitment to get some reviewing done doing my writing I have never failed to get the time I need to write. Does that mean I always have enough time. Obviously not, but I have a better feeling and reviewing makes me a better writer.

<Leger>
wrote: Hi Giselle! Thanks for featuring "Water Balloon Fight for R.A.O.K.!"
this week. Much appreciated!!!
Kim

BIG BAD WOLF NHRU
wrote: Sometimes one wonders. "Invalid Item"
Iva Lilly Durham
wrote: I am now 70 years old. Time is short and therefore more precious. I love my retirement. Other than brushing my teeth and showering, I do only what I want to do ... every minute. :) I love to write, read and play the piano and I especially love making new friends. Enjoyed this newsletter! "Instincts"



To stop receiving this newsletter, click here for your newsletter subscription list. Simply uncheck the box next to any newsletter(s) you wish to cancel and then click to "Submit Changes". You can edit your subscriptions at any time.