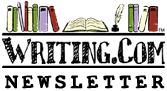 Drama





This week: Co-Author the Story with the Reader

Edited by: Nicki <3's Mara!!
More Newsletters By This Editor



1. About this Newsletter
2. A Word from our Sponsor
3. Letter from the Editor
4. Editor's Picks
5. A Word from Writing.Com
6. Ask & Answer
7. Removal instructions





Like many of you, I've considered myself a writer my whole life. But in 2007, I shifted out of hobbyist mode, started writing for an audience, and embarked on the exciting journey towards publication. As I continue on that path and delve ever deeper into the craft, I feed an insatiable appetite for creative writing theory. I seek out how-to books and workshop experiences to augment and amplify whatever talent I possess. For those of you like me, here's a little theory to appease your hunger.



Our writing prompt generators use current events, scene elements, words, sketches, colors, genres and writing types, unleashing endless random bits of fantasy to fuel your muse. Plus, we've included our database of 600 creative writing prompts so you've got them right at your finger tips!

Get it for Apple iOS, Android or Kindle Fire.
Creative fun in the palm of your hand.



Australian novelist Morris West, who during his lifetime sold 60 million books in 27 languages, once said: "[The writer] has to be the kind of [wo]man who turns the world upside down and says, 'Look, it looks different, doesn't it?'"

For me, there's something that separates an author from the pack, and that thing is the author's instinctive ability to ignore obvious descriptions. Instead of relying on the character's eyes, facial expressions or other characterizations to describe emotion, a truly gifted and conscientious writer finds ways to turn descriptions on their heads, so that the reader has a fresh vantage point from which to experience the emotion. These authors use things to convey emotion in ways that dynamically and emotionally enmesh them with the narration.

Done right, the readers are driven to create the story in their minds as they read. As readers' imaginations spark and emotions blaze, they are, in effect, co-authoring the unfolding story.

For example, a writer could have her character complain this way: Esther rolled her eyes, pouting as she spoke. "I was sick to death of being constantly bombarded with sensational stories in New York City newspapers."

Esther's characterizations show us her feelings, and 'bombarded' is certainly a strong, high impact verb that carries a lot of emotional bang for its buck. But now consider how Sylvia Plath handled the described sentiment in the opening paragraph of "The Bell Jar":

"...and that's all there was to read about in the papers -- goggle-eyed headlines staring up at me on every street corner and at the fusty, peanut-smelling mouth of every subway."

Plath turned the character's complaint on its side by describing the headlines and the places where the papers were sold. The modifiers she chose painted for the reader the emotional portrait of the Esther's feelings. Plath's descriptions allow us see and smell what Esther saw and smelled, and that makes us feel what Esther felt. Her descriptions invite readers to participate in the scene.

I love this quote by humor columnist Patrick F. McManus: "Write out of the reader's imagination as well as your own. Supply the significant details and let the reader's imagination do the rest. Make the reader a co-author of the story."



Question For Next Time: Do you think about your readers as co-authors of your story? Does doing so inspire you?


Thanks for reading!


Invalid Item
This item number is not valid.
#1937652 by Not Available.
In Love and War (13+)
Two teens face the reality of being torn apart by war. Please Rate &review
#657365 by Rica



Have an opinion on what you've read here today? Then send the Editor feedback! Find an item that you think would be perfect for showcasing here? Submit it for consideration in the newsletter!
https://Writing.Com/main/newsletters/action/nli_form



Don't forget to support our sponsor!






Question For Next Time: Do you think about your readers as co-authors of your story? Does doing so inspire you?

Last Month's Question:

What about you? When you start a project, are you more apt to know the personalities you need and build characters around them? Or are you like me and create characters who then reveal themselves in ways you didn't anticipate, so that you have to adapt the plot to accomodate them?

Here's what readers said:


Marci Missing Everyone
-- Love your insights on character development. I just had this conversation last week with some fellow writers on WDC. I'm writing a series of short stories for an ongoing contest on here, and I was talking about how funny it was to "create" characters, but then as you continue writing, you start to get to know them. It's an oddity, but fun anyway. Plus, as you work with these characters in several different stories, they begin to grow and change just like we do in real life.



I love the point you bring up: In real life, we grow and evolve (often on a daily basis). And like in real life, we meet someone new and don't "know" them until, over time, they reveal more and more of themselves to us. Character's are like real people in both regards! Great comment, thank you!




katherinerose -- I enjoyed the idea of the characters being like people in a subway. Your newsletter stirred up ideas for the story I am writing.

In answer to your question, I am more like you, in that "create characters who then reveal themselves in ways you didn't anticipate, so that you have to adapt the plot to accommodate them".



I think most writers will agree with us!




Tina's TEN YR Anniv
-- Characters-my weakness. I have a hard time building a character. Seeing them as real people. I seem to use them to drive the story. It is something I have to work on. In SS you don't have time BUILD a character, you insert clues. This carries to my longer works. I tried the Character contest, didn't do so hot.



Exploring character development is lifelong work for a writer, in my opinion. Short fiction is a great genre to practice, because like you said, it's all about the clues. Best of luck with it!




blunderbuss -- Definitely the latter - they evolve and take me to places I didn't know I had even thought about! I would feel too restricted if it was all planned in advance.



Exactly! I mean, initial planning is always a good idea so you have a jumping off place for the character. But allowing him to participate in the writing of the story, to guide the plot as he reveals himself, is when the magic happens.




BIG BAD WOLF Is Thankful
-- (Submitted item: "Zena's Interview"
-- Sometimes characters surprise you. Originally, my Zena was to just be a reformed thief; turned out to be a whole lot more.

Don't you love when that happens?
Lyn
-- I've been reading these weekly newsletters for a while now, but this is the first one that made me rethink how I arrive at my characters. You are right on with the assumption of which character is which personality. I found how you brought the whole piece together really satisfying to read and to linger over with my thoughts. Thank you! It was a pleasure to read your input!



Thank you so much for the awesome feedback, Lyn! You made my day!!




CactusWren
-- I have had characters that wandered off - or went running - to places I never dreamed of going. Sometimes I just have to follow them and see where they lead me. Sometimes I have to wait for them to get back to the business at hand. I worried about this for a while, but now believe that you have to be true to your character as much as to your story plot. I find their evolution wonderful and amazing. I don't want to restrict them too much. Besides, if I think they've gone on a rabbit trail, I simply edit.



Ooh, great point! There's no limit to what we should write, as the character demands. Whether or not all those scenes make it into the final draft is up to you, but every eliminated scene or false plot path gives us more opportunity to see how the character acts and reacts to different situations. And of course, never throw those deleted scenes away! Any one of them can be the catalyst for a brand new story. Thanks for the thoughtful comment!






See you all back here on July 10, 2013. Until then, have a great month!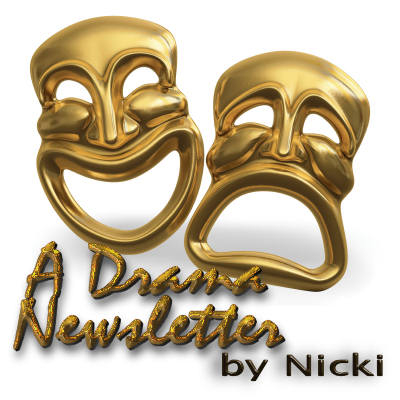 To stop receiving this newsletter, click here for your newsletter subscription list. Simply uncheck the box next to any newsletter(s) you wish to cancel and then click to "Submit Changes". You can edit your subscriptions at any time.