Poetry: January 13, 2021 Issue [#10559]




This week: New Year, New Thoughts, New Poetry

Edited by: RedWritingHood♡WDC
More Newsletters By This Editor



1. About this Newsletter
2. A Word from our Sponsor
3. Letter from the Editor
4. Editor's Picks
5. A Word from Writing.Com
6. Ask & Answer
7. Removal instructions



"Poetry is a deal of joy and pain and wonder, with a dash of the dictionary."
Khalil Gibran
"A poet is a nightingale, who sits in darkness and sings to cheer its own solitude with sweet sounds."
Percy Bysshe Shelley

| | |
| --- | --- |
| ASIN: B01FST8A90 | |









New Year, New Thoughts, New Poetry




Happy new year! And what a year it's been! And by the looks of the first week of 2021 it's not likely to be much better any time soon.


Much of it we have no control over—others we do. My philosophy is always: take care of what you have control over and let go of what you don't.


You always have control of poetry and how you use it. So that is my challenge for you this month.


If you are:

--stressed and need catharsis

--bored and need something to occupy your time

--angry, happy, lost, confused etc and want to share those feelings

--angry, lost, confused, etc and want to find a way to try to compel change

--have some poetry flooding your mind and need it to burst forth

--just want to write a poem


To assist you in your endeavors, I'm sharing a couple of forms. Enjoy!



RemyLa Rhyme Form

This is a newer poetry form. Laura Lamarca is the inventor of the RemyLa Rhyme form. She named it after both her daughter and herself.


MUST HAVES


--Stanza count: 4

--Line count total: 16 (4 lines in each stanza)

--Rhyme in the following format: abca defd ghig jklj

--Meter: syllabic in the following format: 8/10/12/8

--Stanza 1's last word = first word of stanza 2.

--Stanza 2's last word = first word of stanza 3.

--Stanza 3's last word = first word of stanza 4.

--Stanza 1's first word = last word of stanza 4.




COULD HAVES or WHAT IS THE POET'S CHOICE IN ALL THIS?


--topic, theme




Riddle poem



MUST HAVES


--Describe your subject, just don't name it in the process.



COULD HAVES or WHAT IS THE POET'S CHOICE IN ALL THIS?

--Topic, theme

--Stanza count

--Line count

--Rhyme or not

--Meter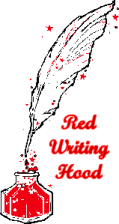 Theme: Remyla and riddle poems













Have an opinion on what you've read here today? Then send the Editor feedback! Find an item that you think would be perfect for showcasing here? Submit it for consideration in the newsletter!
https://Writing.Com/main/newsletters/action/nli_form



Don't forget to support our sponsor!




| | |
| --- | --- |
| ASIN: B07B63CTKX | |





Have a question, answer, problem, solution, tip, trick, cheer, jeer, or extra million lying around?

If so, send it through the feedback section at the bottom of this newsletter OR click the little envelope next to my name RedWritingHood♡WDC
and send it through email.


Comments on last month's newsletter:


From: JCosmos


Comment: Your root canal poem inspired me to send you three of my dental poems. I have had about 10 root canals in my 65 years and am doing one right now. Hope you enjoy these poems


Dental Torture Blues

Sitting in the dental chair
Undergoing dental surgery
While the dentist probes
And tortures me
With his instruments of pain

The Frank Zappa song plays over and over
The torture never stops
The torture never stops

And I think of the mad dentist
In Little House of Horrors
The Jack Nicolson character
Who screams Pain is good

As he assaults his patients
Doing root canals
Without anesthesia

And so I endure the torture
Of the dentist
In the vain hope
I can save my teeth

Until the next time
I undergo dental torture
The song faces away
And I slowly recover

Then as I leave
I am confronted with the bill
And the song roars back to life

The torture never stops
the torture never stops


From: JCosmos

Comment: two more dental blues poems

Bad Teeth

I have bad teeth
Really bad behaving teeth
All my life I have battled my teeth

And many crooked dentists
Have gotten rich off trying to fix
These damn crooked teeth of mine

I always wished I could have perfect teeth
Perfect vision
Perfect hearing
Perfect athletic body

But instead I have crooked teeth
Bad vision
Bad hearing
And an uncoordinated body to boot

Thus is my fate
And I have learned to accept
These damn crooked teeth
And my visits to crooked dentists


More Dental Blues

I have the dentist blues
I have them bad

Have to go to the dentist
For my twice yearly torture session

In order to save my remaining teeth
I must endure the never ending pain

I have the dentist blues
I have them bad

I must have known over 100 dentists
During my 61 years around the sun

Some were good, some were great
A few became friends
A few became enemies

I have the dentist blues
I have them bad

All tortured me
Saying it was for my own good
To save my crooked wicked teeth

My teeth are bad
Wicked, misbehaving

Rotten to the core
And always have

I have the dentist blues
I have them bad

I tried orthodontic braces
As a child
Gave it up as an adult

Did everything except implants
So many crowns
So much dental work

My teeth are gold plated
Monuments to the dental artistry
I have the dentist blues
I have them bad

A few dentists were exceptionally good
A few exceptionally bad
A few were crooks by and by

I have the dentist blues
I have them bad

My current dentist is good
He keeps the chit chat down
Does not lecture me on his political views

Imagine having a dentist praise GW Bush
Or Trump taking your forced silence
As acceptance of his right wing views

Imagine a dentist talking endlessly
About her children's latest escapade
While drilling away

I have the dentist blues
I have them bad

And imagine a sexy dentist
Or hygienist working away
As you think of her in bed

And can't get that thought
Out of you head
As they drill and poke

I have the dentist blues
I have them bad

Yes I have a love hate relationship
With dentists
Can't stand them
Can't stand the pain

But they save my teeth
And save my smile
And so I forgive them
One and all

I have the dentist blues
I have them bad


From: Monty

Comment: A thank you for the time you spend on the poetry News Letter I like Carl Sandburg's statement.


Thank you so much for sharing the dental poetry and your comments! They both made my day

| | |
| --- | --- |
| ASIN: B07B63CTKX | |



To stop receiving this newsletter, click here for your newsletter subscription list. Simply uncheck the box next to any newsletter(s) you wish to cancel and then click to "Submit Changes". You can edit your subscriptions at any time.



This printed copy is for your personal use only. Reproduction of this work in any other form is not allowed and does violate its copyright.