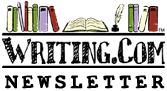 Mystery





This week: The Father of The Modern Mystery

Edited by: ember_rain
More Newsletters By This Editor



1. About this Newsletter
2. A Word from our Sponsor
3. Letter from the Editor
4. Editor's Picks
5. A Word from Writing.Com
6. Ask & Answer
7. Removal instructions





I grew up on mysteries. Both of my parents loved a good mystery. Daddy read Sherlock Holmes to me before I could even hold up my head on my own. My mother, ever the librarian, introduced me to Nancy Drew and the Hardy Boys; but quickly discovered I much preferred Trixie Belden and the Bobbsie Twins. Daddy countered the lack of classic literature with episodes of Scooby-Doo. it never stops to amaze me that though my father has been gone for nearly 5 years now, I can still be thrown back to those days, just by abandoning my bedroom for the living room. If Scooby is playing, you can be sure one of my kids is watching.

Though I may not write what some would call a mystery, my books contain the elements of mystery stories. I still love a good who done it. Now I have come to share a mystery with you.



| | |
| --- | --- |
| ASIN: B083RZ37SZ | |



You know every good mystery needs a villain. The villain in this story comes in the form of a writer named, Rufus Wilmot Griswold. He played a trick on the world you see. He wrote an obituary about the father of the modern mystery and told the whole world after he was dead that he was a drunk and friendless man with a mental disorder. He used pictures taken of our mystery writer during the last four years of his life that looked rather sinister. Our author only had that look for those last four years. Sideburns and mustaches were all the rage of fashion at the time. Just because his made him look creepy doesn't mean that he was.

Okay, so by now you probably have figured out who I am talking about. In less than a week from the release of this newsletter, on October Seventh Edgar Allan Poe will celebrate the 164th anniversary of his death. I know, everyone talks about Poe in October. I searched this newsletters data base and Poe was not to be found. He couldn't be found despite the fact that the first ever award for a mystery writer was called the Poe Award. You guessed it. It's named after the father of the Modern day police procedural. "Law and Order", "NCIS", and yes even "Sherlock Holmes" owe a debt of gratitude to Edgar Allen Poe.

Sure, we all know he inspired Steven King. There isn't a high school student in America that hasn't read the "Tell Tell Heart", or "The Raven". The disappointment in that is the teachers don't mention, that he also wrote the mysteries "Murder on the Rue Morgue", and "The Purloined Letter". As I look over this list of stories some I have never heard before, I can't help but think of my favorite, "Don't Bet the Devil Your Head: A Tale with a Moral". Then of course there is his love story called, "Eleonora", his pirate treasure hunting adventure, "The Gold Bug," He showed his humor with "The Balloon Hoax" and gave us a high seas adventure with "Manuscript Found in a Bottle."

One of the things I always loved about Poe, once I actually got the chance to get to know him through his writing, is that he didn't let himself be limited to just one type of story. He would write it all. I suppose in a way you could say he inspired our "Journey Through Genres" Contest. I know you can say he inspired Dole to write Sherlock Holmes. He inspired Steven King to dig deep into the darker recesses of the human mind. I wouldn't be surprised if he didn't inspire Agatha Christie.

Lately my son has been listening to an artist named Macklemore. In his song "Ten Thousand Hours" He says and I quote: "The greats weren't great because at birth they could paint. The greats are great because they painted a lot."

That is what Poe did for us. He died at the age of 40 and there isn't hardly a genre he hasn't touched in some way. We can all learn from him, stretch our wings by writing things we wouldn't normally write even if we know they are going to flop. You never know what it will teach you about yourself and your writing. If he can do all of what he did with only 40 years having endured the death of his parents, the abandonment of his adopted father, the death of the love of his life when she was only 24... What can you do with your next 40 years?

As I leave you, let me leave you with one scary thought, just as a homage to the Poe everyone knows...

The smear campaign against him after his death was written by someone he had given a bad review too. Now look at the number of reviews you have in that review count under your port link and ask yourself... How many of them might want to do a repeat once I am gone?









Her e our my picks for this Issues Mystery Stories. Enjoy!
White Sheep of the Family (13+)
Raised by a family of thieves, a man tries to be an honest cop. 930+ Views
#

1902911

by BIG BAD WOLF
A Forest's Deep Secret (13+)
Two high school girls go for a hike in the woods, and encountered something unexplainable.
#

1780131

by Jeannie💐
Invalid Item
This item number is not valid.
#

1952283

by Not Available.
Invalid Item
This item number is not valid.
#

1950438

by Not Available.
Invalid Item
This item number is not valid.
#

1938932

by Not Available.
Invalid Item
This item number is not valid.
#

1946917

by Not Available.
Night Spectre (13+)
How does Detective Nick Spectre catch a thief he can't see?
#

1945615

by gadgey



Have an opinion on what you've read here today? Then send the Editor feedback! Find an item that you think would be perfect for showcasing here? Submit it for consideration in the newsletter!
https://Writing.Com/main/newsletters/action/nli_form



Don't forget to support our sponsor!




| | |
| --- | --- |
| ASIN: B07N36MHWD | Kindle |

Question!

Think about your favorite authors and tell us which has the biggest mystery surrounding them and I don't mean one they have written.

| | |
| --- | --- |
| ASIN: 1945043032 | |



To stop receiving this newsletter, click here for your newsletter subscription list. Simply uncheck the box next to any newsletter(s) you wish to cancel and then click to "Submit Changes". You can edit your subscriptions at any time.