Romance/Love: January 29, 2014 Issue [#6130]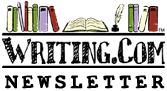 Romance/Love





This week: What is Romance to you?

Edited by: Lonewolf
More Newsletters By This Editor



1. About this Newsletter
2. A Word from our Sponsor
3. Letter from the Editor
4. Editor's Picks
5. A Word from Writing.Com
6. Ask & Answer
7. Removal instructions



A great romance novel makes us believe in love. Not just that love exists, but that this love between these two people is somehow going to last and endure.No two people love the same way, and the people in a relationship love each other different ways. There are an endless amount of ways a person can feel attracted to someone else, depending on the physical appearance and personality of both the characters.



| | |
| --- | --- |
| ASIN: B07RKLNKH7 | Kindle |

In real life, biology drives desire. We are attracted to our partners who "smell" right based on a complex chemistry of pheromones, fertility, and a sufficiently different immune system. We seek visual signs that our potential mates can bear children or protect them: full lips and a small waist-to-hip ratio in women; square jaw and a muscular build in men. As a writer we can use these hormonal markers as a blueprint for describing characters.

Universal hooks make it possible for your reader to find your hero and heroine attractive. But to make your stories and characters compelling, your hero and heroine need to find each other uniquely desirable. For that, you need more than symmetrical faces and a great waist-to-hip body ratio. Even if your characters feel love or lust at first sight and that whole I must make you mine imperative is a powerful fantasy, you can make their attraction more powerful and believable by motivating it with specific triggers. Using observation and characterization to move beyond such cliches will have a better impact upon your reader.

Your characters' level of physical awareness must be appropriate to:

The subgenre
The characters themselves
The stage of the relationship
The level of action/external conflict.


There is a difference between universal and cliche. If your hero is not a red-roses-and-champagne kind of guy, your heroine would prefer books or beer or Lakers tickets, or your setting is a castle off the Northern coast of Spain. Possibly a cave in the South Carolina mountains, then don't force your couple into unlikely getaways with meaningless props. Choose settings that are sensually powerful, but also appropriate to your story, and significant to your characters. The important thing is to get your lovers alone, away from the bad guys and the kids, in a setting which is unique to them.

Rehearsal: The Highest Aim (2008) (ASR)
Music, Romance, & Friendship entwine during the 70s, with characters who will capture you.
#

1436334

by LK Hunsaker
Is It Really Forever? (18+)
Chapter one. Vampires, College, year 2039. An eager girl and an unwilling vampire.
#

1968175

by J.Lynn Weller
Home Is Where The Heart Is (18+)
Romance story for Sensual Infusion Round 2
#

1973880

by ☮ The Grum Of Grums
The Old Boyfriend (ASR)
She was set to marry Alex, and then she heard from an old boyfriend.
#

856029

by Shaara
Ghostly Love (13+)
Cute love story~! Might be a little scary~ Please read and rate~!
#

431646

by Devilgurl
The Great Barrier (ASR)
Renewal on the Great Barrier Reef, in the bosom of Nature. (Australia, India)
#

358230

by Bhaskar



Have an opinion on what you've read here today? Then send the Editor feedback! Find an item that you think would be perfect for showcasing here? Submit it for consideration in the newsletter!
https://Writing.Com/main/newsletters/action/nli_form



Don't forget to support our sponsor!




| | |
| --- | --- |
| ASIN: B01CJ2TNQI | |


| | |
| --- | --- |
| ASIN: 0997970618 | Book |



To stop receiving this newsletter, click here for your newsletter subscription list. Simply uncheck the box next to any newsletter(s) you wish to cancel and then click to "Submit Changes". You can edit your subscriptions at any time.



This printed copy is for your personal use only. Reproduction of this work in any other form is not allowed and does violate its copyright.