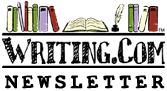 Romance/Love





This week: 8 Tips for Writing Romance

Edited by: Lonewolf
More Newsletters By This Editor



1. About this Newsletter
2. A Word from our Sponsor
3. Letter from the Editor
4. Editor's Picks
5. A Word from Writing.Com
6. Ask & Answer
7. Removal instructions



Romantic stories are fantasies that the reader wants to escape into. They are worlds where he/she can experience the thrill of falling in love with a man/woman the author creates that captures their attention and appeals to their personal tastes. Romance stories has a way of being able to be intertwined with various genres making it one of the most diverse genres to write. When writing romance all tips and tricks can be helpful, hopefully some of these will be of some use.

| | |
| --- | --- |
| ASIN: 1945043032 | |

The essence of all fiction is conflict; when your romance characters first meet, they are going to be antagonists. Your job is to develop the relationship slowly so that the reader can believe that these two antagonists are falling in love. If we as writers can tap into the allure and mystery of romance, we have the opportunity to evoke more powerful and compelling emotions through our stories. Here are a few tips to keep in mind:


1. Draw on your life experience.

If you don't have any then it's time to research. Gather information from the world around you to help build depth into your characters. You want them to be believable, not only to you, but to your readers as well.

2. Develop Both Characters Equally.

Readers may only see things unfold from one character's perspective. But as authors, we need to understand both characters equally. Readers will notice if a character is falling for someone who lacks ambition or goals, who doesn't change, and who's defined by cliché gender traits and archetypes. Both our characters and our readers deserve better.

3. Make it character driven.

Your story is about two people - the hero and the heroine. It is not about the heroine's best friend or the hero's brother, sister, pet dog, or cat. Complicated plots are fine in a thriller or crime fiction or family saga, but in romance they can get in the way of a good story.

4. Conflict.

Give your characters opposing motives or put them on opposite sides of an important situation. If you give your characters a well-motivated conflict, when you throw them together the sparks will fly.

5.Watch your point of view.

Switching too often can make the reader feel like their watching a tennis match. Stay with one character for a chapter or two then switch, but always make it clear when you switch to the other character's point of view.

6. Sex scenes.

They should be written to move the plot forward, increase tension, conflict, and up the stakes. Never just throw a sex scene in because you think one is due.

7. Language.

Use the language you are comfortable with, and you feel fits the character. Always be true to the character when choosing the level of language.If your character comes from a certain background have that be present in their dialogue.

8. Have fun.

No matter what you are writing, you must have fun with it, or it becomes a chore and then stagnant, something you put on the shelf to forget.

The Debt (18+)
How far would you go to repay a debt for a friend?
#

147588

by Amber Jane
Invalid Item
This item number is not valid.
#

935529

by Not Available.
Hidden Fire section 1 (13+)
Fantasy/Romance Several chapters. Work in progress. New file started for part 2.
#

857791

by Midnight Dawn
The Irish Computer (E)
What if you could teach a computer to have a sense of humor?
#

574897

by Shaara
Country Lovin': Chapter Twelve (18+)
Jessie and Valene go out to dinner and Jessie tells her how he feels...
#

337595

by Bernie
Invalid Item
This item number is not valid.
#

671561

by Not Available.
Inner Exit (GC)
It takes an old friend and an old haunt to findout where Billi Jo is going to.
#

512090

by VictoriaMcCullough
Invalid Item
This item number is not valid.
#

127258

by Not Available.



Have an opinion on what you've read here today? Then send the Editor feedback! Find an item that you think would be perfect for showcasing here? Submit it for consideration in the newsletter!
https://Writing.Com/main/newsletters/action/nli_form



Don't forget to support our sponsor!




| | |
| --- | --- |
| ASIN: 0997970618 | Book |


| | |
| --- | --- |
| ASIN: B083RZ2C5F | Kindle |



To stop receiving this newsletter, click here for your newsletter subscription list. Simply uncheck the box next to any newsletter(s) you wish to cancel and then click to "Submit Changes". You can edit your subscriptions at any time.