Mystery: October 29, 2014 Issue [#6625]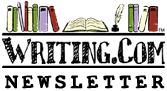 Mystery





This week: Be Predictable, but not too predictable

Edited by: ember_rain
More Newsletters By This Editor



1. About this Newsletter
2. A Word from our Sponsor
3. Letter from the Editor
4. Editor's Picks
5. A Word from Writing.Com
6. Ask & Answer
7. Removal instructions





The first story I ever read by myself was a mystery. My first short story I ever wrote was a mystery and of course, the first novel I ever tried to write--I really need to finish it--was a mystery. Life itself is just one good mystery waiting to reveal itself just around the corner of time. Life would be boring without it and that is why I occasionally do this newsletter--to remind myself that everyone needs a little mystery.



| | |
| --- | --- |
| ASIN: B085272J6B | Kindle |



So, last night my husband and I were flipping through channels and there wasn't much on. It got us talking about the shows we have quit watching and why. The conversation went something like this.

Me: I won't list them all but we have stopped watching all the shows with CSI in the name. We even quit watching NCIS. You use to love all of those.

Hubby: Too predictable. Its like your not wanting to watch that one show cause it always involves a kidnapping and you already know how it will end.

Me: True So why not Criminal Minds? We use to love that one too.

Hubby: There is only so much a man with four daughters can take in the world of stalkers and serial killers before he snaps.

Me: Fair enough, but you usually didn't solve it till almost the end.

Hubby: True, but that just made my own nightmares worse.

You get the idea... We pretty much don't watch anything that includes a mystery anymore. The exceptions are The Black List but as soon as they confirm his suspicions about Red's relationship to Elizabeth, we will stop watching because its already started including the elements that should give fathers nightmares.

We watch Sleepy Hollow for the mystery side of it but to be honest, the whole mystical four horseman thing is becoming a bit of a bore. This show is proof there is nothing new under the sun and modern writers can't resist calling upon the bibles bad guys as a literary tool.

So why did I tell you all of that? To help you better understand the next thing I am going to tell you.

Timing is everything! I used television shows because scripts are writing too and they are pretty universal. For every writer of mysteries out there you will have a reader like my husband who can put Sherlock's deductive reasoning to shame.

These are the readers you want. These are the ones that get fired up enough to be your biggest word of mouth advertiser or your worst critic.

However you can't just write for them. You also have to consider the rest of us. Those of us who read to enjoy the story not to solve the mystery because we know you will solve it for us. We just want that little thrill of not knowing.

So how do you balance the two? Well, in my last newsletter I mentioned the red herring. It works well, but you have to leave enough clues that people like me can eventually figure out its a red herring without making it obvious to people like my husband. You want him stumped, at least for a little while.

I always know I am doomed to watch a show by myself while hes at work once he starts telling me who did it half way through and why the red herring is the red herring.

Its a delicate balance between misdirection and out right lying to your reader. Everyone likes to be stumped. No one likes to be lied too. Characters can lie, Characters can lay false trails as long as those characters fall into the category of suspect. The main character can never do that. We stopped watching Leverage because my husband felt the way the writer was getting himself out of corners was dishonest.

This is where your readers play a real part in how you write a story. Engage them, keep them guessing, without making it too hard or too easy to figure out.. There is a happy middle ground, you just have to find the right pace for you and your story with clue reveling to keep everyone happy..






Invalid Item
This item number is not valid.
#

2014265

by Not Available.
Invalid Item
This item number is not valid.
#

2006741

by Not Available.
Samuel Modico III, Sleuth of Sixth Grade (ASR)
Sam and the Mystery in the Nurse's Office. Written for the ReWrite Contest
#

2005459

by Crys-not really here
Invalid Item
This item number is not valid.
#

2014091

by Not Available.
Fait Accompli (13+)
A web of love and obsession. A game of instinct and intellect. Who will win?
#

2011891

by elysium
Invalid Item
This item number is not valid.
#

2012855

by Not Available.



Have an opinion on what you've read here today? Then send the Editor feedback! Find an item that you think would be perfect for showcasing here? Submit it for consideration in the newsletter!
https://Writing.Com/main/newsletters/action/nli_form



Don't forget to support our sponsor!




| | |
| --- | --- |
| ASIN: B07K6Z2ZBF | |



So how do you control your pacing to make all of your readers happy?


| | |
| --- | --- |
| ASIN: B004PICKDS | |



To stop receiving this newsletter, click here for your newsletter subscription list. Simply uncheck the box next to any newsletter(s) you wish to cancel and then click to "Submit Changes". You can edit your subscriptions at any time.



This printed copy is for your personal use only. Reproduction of this work in any other form is not allowed and does violate its copyright.