Mystery: December 24, 2014 Issue [#6733]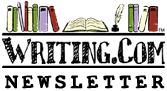 Mystery





This week: The Mother of the Detective Novel

Edited by: ember_rain
More Newsletters By This Editor



1. About this Newsletter
2. A Word from our Sponsor
3. Letter from the Editor
4. Editor's Picks
5. A Word from Writing.Com
6. Ask & Answer
7. Removal instructions





Life is a mystery. I learned that a long time ago, sitting on my fathers lap as he read about the adventures of Nancy Drew and the Hardy Boys. My mother introduced my son to Sherlock Holmes and Ms. Marple. Everyday, I can find a mystery in something even if its just who didn't shut the front door. Nobody is the main suspect in many of my daily mysteries. That hasn't deterred my love of reading or writing a good mystery. Join me as we delve into the history of the mystery.



| | |
| --- | --- |
| ASIN: B083RZ2C5F | Kindle |



I have in a past newsletter written about the Father of the Modern Mystery and how I was surprised to find out it was Edgar Allan Poe. When it came time to do this newsletter, I thought perhaps looking into the first person to write a mystery novel would be a good idea. I discovered that what is considered to be the first mystery Novel was The Notting Hill Mystery and it was written by Charles Felix. I went on my way to Google one Charles Felix and discovered a problem. There wasn't a writer by that name. There was a Duke of Savoy by that name but no writers. I finally found the book listed on Wikipedia and discovered it was a pen name. I also discovered that the author was never relieved in his lifetime and its pretty much just speculation based upon some fairly interesting if not relevant facts. Finding out who he was seemed more like trying to figure out who Jack the Ripper was. Not to mention the story hadn't been published as a novel. It was a serial published in Once A Week in 1862 -1863. Then there was an argument over whether that counted and I almost threw up my hands and looked for something more mundane.

That was when I saw in my Google search the name Anna Katharine Green. So, I Googled her and got just what I had hoped for. On the right hand side of the page next to the links was a mini bio about a woman who wrote mystery novels under her own name, starting in 1878. That just floored me. Women didn't publish. Anyone who has every read Little Women know how hard it was for Jo to get published. But here was this woman publishing under her real name in 1878.

Her first novel was The Leavenworth Case. She was 32 years old. It became a best seller a full ten years before Dole published Sherlock Holmes.

She is credited with shaping serial mysteries into their current form with the introduction of Ebenezer Gryce of the New York Metropolitan Police Force. In three of those novels, he was helped out by a social butterfly and all around busy body, Amelia Butterworth. Some have argued was the blue print for Miss Marple, Miss Silver, and other female busy bodies that found their way into the modern day mystery.

Unlike other women of her era, she didn't marry until the end of 1884. Her husband was Charles Rohlf and actor and furniture designer seven years her junior. She had three children, a daughter and two sons. Both of her sons were test pilots, both of whom even have their own Wikipedia pages.

You can find her work at http://www.gutenberg.org/ebooks/author/541. I have been reading some of her work myself, and for fans of Agatha Christie and Aurthur Conan Dole... She will not disappoint.






Charon City Blues: 1st Stanza (13+)
High tech and low life is the name of the game for private detective Chris Black.
#

1679596

by A. Barnes
Invalid Item
This item number is not valid.
#

2019783

by Not Available.
Invalid Item
This item number is not valid.
#

2019819

by Not Available.
Invalid Item
This item number is not valid.
#

1919178

by Not Available.
Looking With Lauren (13+)
A Tv Reporter Covers A Missing Girl
#

2018256

by Royal Eduardo
Invalid Item
This item number is not valid.
#

2018207

by Not Available.



Have an opinion on what you've read here today? Then send the Editor feedback! Find an item that you think would be perfect for showcasing here? Submit it for consideration in the newsletter!
https://Writing.Com/main/newsletters/action/nli_form



Don't forget to support our sponsor!




| | |
| --- | --- |
| ASIN: B07RKLNKH7 | Kindle |



There seems to be some hurt feelings by Dole fans that the great author was bet to the punch and influenced by a woman. What do you think about a woman making the best sellers list for an awesome detective story before Dole?


| | |
| --- | --- |
| ASIN: B07K6Z2ZBF | |



To stop receiving this newsletter, click here for your newsletter subscription list. Simply uncheck the box next to any newsletter(s) you wish to cancel and then click to "Submit Changes". You can edit your subscriptions at any time.



This printed copy is for your personal use only. Reproduction of this work in any other form is not allowed and does violate its copyright.