Noticing Newbies: April 08, 2015 Issue [#6915]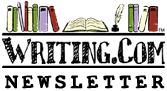 Noticing Newbies





This week: Overcoming Roadblocks

Edited by: ember_rain
More Newsletters By This Editor



1. About this Newsletter
2. A Word from our Sponsor
3. Letter from the Editor
4. Editor's Picks
5. A Word from Writing.Com
6. Ask & Answer
7. Removal instructions





Normally, the purpose of this newsletter would be to help New Members better understand their way around WDC. This time though, It's about just encouraging you to do what I can't. Write something new and be here as much as possible.



| | |
| --- | --- |
| ASIN: B07NPKP5BF | Toy |



Sometimes I think the Universe is conspiring against me. Had you told me nearly two months ago--or is it three--that I would be without internet service, I would have told you you were nuts. But, that is exactly what happened. My phone company and internet provider got into an argument over the value of dial up and even though no one can get me DSL or Wireless, I am stuck without internet. Well almost, I do have a hot spot on my phone that works but I don't have unlimited data anymore so, I'm stuck. Hubby has assured me that he will have me satellite before NANOWRIMO but that was only after he came home to me crying because April had started and I can't do Camp Nano--maybe in July but I'm not holding my breath.

So whats a girl to do when she needs companionship to write? We don't have any local writing groups. So, that leaves me needing Writing.com probably more than writing.com needs me. So what am I doing while I wait? Well, I am trying to keep at least some lines of communication open. But mainly, I have been editing my novel. You know that one thing most of us at least learned to hate to do but has to be done? This place is the main generator of my story ideas these days so I'm bone dry on those. The only thing left to do was edit. Maybe that was the universes way of reminding me that sometimes, you just have to disconnect from the internet and connect to your characters. It remains to be seen how well I can edit without the people here who catch all my spelling and grammar mistakes.

For all of our new members, dive in and enjoy yourself. Complicated and confusing, sometimes sure. Well worth the effort? Absolutely.

To older members who still get this newsletter... I will come back, I promise. I'm like that raccoon that keeps trying to break into my chicken coop. You can't get rid of me that easy and I will find my way back. So, while I am stuck fighting with my inner editor, everyone please sit down and write at least a poem or short piece knowing some of us, can't be where we want to be, doing what we want to do. But, you can.





List of Items from our newest members


My Normal (ASR)
A poem about anxiety.
#

2037178

by TheCraigSanders
Invalid Item
This item number is not valid.
#

2037177

by Not Available.
The Chosen Ones (E)
A poem about heroes, and war. Also this poem was inspired by the band Dream Evil.
#

2037145

by Sleeping Forest
Invalid Item
This item number is not valid.
#

2037082

by Not Available.
Invalid Item
This item number is not valid.
#

2037075

by Not Available.



Have an opinion on what you've read here today? Then send the Editor feedback! Find an item that you think would be perfect for showcasing here? Submit it for consideration in the newsletter!
https://Writing.Com/main/newsletters/action/nli_form



Don't forget to support our sponsor!




| | |
| --- | --- |
| ASIN: B00KN0JEYA | |



I hope you take some time out in the coming weekend to do some writing. Just tell your muse, Ember sent you.


| | |
| --- | --- |
| ASIN: B01DSJSURY | |



To stop receiving this newsletter, click here for your newsletter subscription list. Simply uncheck the box next to any newsletter(s) you wish to cancel and then click to "Submit Changes". You can edit your subscriptions at any time.



This printed copy is for your personal use only. Reproduction of this work in any other form is not allowed and does violate its copyright.