Poetry: March 09, 2016 Issue [#7516]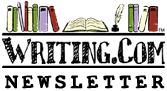 Poetry





This week: Expanding My Horizons

Edited by: Elle
More Newsletters By This Editor



1. About this Newsletter
2. A Word from our Sponsor
3. Letter from the Editor
4. Editor's Picks
5. A Word from Writing.Com
6. Ask & Answer
7. Removal instructions





As a perpetual poetry pupil, I am always looking to learn new ways to improve my poetry. Sometimes the answer is to stop writing for a moment and read or listen instead...



| | |
| --- | --- |
| ASIN: 197380364X | |



In my last poetry newsletter, I wrote about being a perpetual poetry pupil. Well, my learning has taken an interesting turn.

Most authors, and those associated with the profession of writing, agree that you can't write what you don't read. If you want to write great horror novels, you have to read horror novels. If you want to write great romance novels, you have to read romance novels. And so on, and so forth. So you'd think it would go without saying that in order to write great poems, you have to read poems. Well, somehow I missed that step.

I had very few poetical influences growing up. My mother wrote little ditties inside birthday cards and that was about it. I remember being made to write poems in English class at high school, but I honestly don't remember studying and/or reading poetry to any extent. Certainly none of it stayed with me. Despite this, I wrote poetry all through my teenage years. Was it great? Of course not!

I have learned a lot about poetry since I came to Writing.com, and it's true that the more poems I read, the better my own poetry gets. But there was one step I hadn't yet taken. No, wait, make that two steps that I hadn't yet taken.

I didn't read poetry outside of Writing.com. And I didn't read poems aloud nor listen to others read them aloud.

After some consultation with Cinn, who is my resident expert on all things poetry, we both went away and tried to come up with fun ways to bridge these gaps in my knowledge. It amuses me that we both came up with completely different activities designed to cover completely different aspects of my poetry education.

"Poetry Readings"
is an activity where you can record yourself reading your own poems aloud, and share them with the other members of Writing.com. What's more, you can listen to other WDC poets reading their poetry aloud. It is proving to be quite fascinating, and very insightful. I had some trouble imagining how Cinn's free verse poems, particularly the ones with creative use of line breaks and spaces, would sound, but now I know. Now I have a better understanding of how her poems will sound when I read a new one. And she was surprised by some of the Maori words I used in my poetry, which sounded nothing like she had imagined. There are multiple poets already participating. Do come along and listen to the recordings, and feel free to add your own. There are merit badges to be earned too.

"Pursue the Horizon - Open for Signups"
is about sharing the poetical works of non-WDC poets. Professional, published poets. Each day (or as often or little as each member chooses), we are sharing a poem by a non-WDC poet and explaining why we chose that poem, what we like about it and any other information pertinent to it. The first day (March 1) saw a wide range of poems, from those written from the perspective of soldiers and prisoners, to children's poetry, to love poems and more. And that was just day one! The activity is open for anyone to join at any time. Check out the guidelines, and join in. Or if not, at least take the time to read some of the works that are being shared. I, for one, am finding it fascinating as well as educational.



Poetry Readings (E)
Hear WDC poets read their poems aloud
#

2076004

by Elle
Pursue the Horizon - Open for Signups (13+)
30-Day Poetry Blogging Challenge - Begins March 1
#

2076114

by Cinn
Fragments of Being (GC)
My first poetry collection, anywhere from polished pieces to rambling drafts.
#

2034524

by Charlie ~ thx anon
Dark Poetry (13+)
Collection of some of my darker poems~Please check them out!!~
#

2059364

by Jen~
100 (GC)
For "Give It 100"...random daily drafts of poems.
#

2074003

by Fivesixer
Poetry (13+)
Winner of 2015 Quill Award for Best Drama/Emotional
#

2046827

by Choconut
2015 (E)
Poetry written in 2015.
#

2026137

by Cinn



Have an opinion on what you've read here today? Then send the Editor feedback! Find an item that you think would be perfect for showcasing here? Submit it for consideration in the newsletter!
https://Writing.Com/main/newsletters/action/nli_form



Don't forget to support our sponsor!




| | |
| --- | --- |
| ASIN: 0910355479 | |



What exposure have you had to professional, published poets? Were there books of poetry in the house when you were growing up? Tell me about your experiences.



I received these comments for my last newsletter "Poetry Newsletter (November 18, 2015)"
:

'Thank you for your lovely newsletter. Didn't know they have lessons on poetry on WDC and I suck in poetry.
' ~ Elycia ☮


'Writing poetry is certainly putting yourself on a lifelong learning curve. the more you learn, the more your\ find there is to learn. Whatever you do, enjoy your writing.' ~ Bob retired

| | |
| --- | --- |
| ASIN: B01DSJSURY | |



To stop receiving this newsletter, click here for your newsletter subscription list. Simply uncheck the box next to any newsletter(s) you wish to cancel and then click to "Submit Changes". You can edit your subscriptions at any time.



This printed copy is for your personal use only. Reproduction of this work in any other form is not allowed and does violate its copyright.