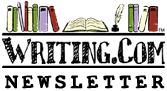 Noticing Newbies





This week: Writing is in the air

Edited by: ember_rain
More Newsletters By This Editor



1. About this Newsletter
2. A Word from our Sponsor
3. Letter from the Editor
4. Editor's Picks
5. A Word from Writing.Com
6. Ask & Answer
7. Removal instructions





As a dyslexic writer, I understand how scary it can be to put yourself out there for others to read your work. But, it is something every writer needs to do. Whether your submitting to a publisher or posting here for the WDC world to see, you have to get over it eventually or die forever in obscurity with your children wondering why Momma/Daddy never did anything with their work.

The purpose of my newsletter is to entertain a bit, if I can, but it is also to help you look at writing ideas as a new member you might not have thought of. To address issues every writer faces at some point in time so you know your not alone. On occasion, I will throw in a WDC technical issue on how to find your way around here or the ML. What I won't do is give you something that bores me. Yes, I know there will be spelling mistakes. I won't use every their, there or they're correctly. I may spell collage when I mean college. But, what you will get are real answers to problems I have conquered and some I'm still struggling just like some of you.

My one and only goal is to help our new members feel like the belong, because you do. Different ideas are welcome. Different styles are welcome and yes even if you have in the past spelled cat K A T out loud and thought you were right or struggle to let characters lead and the plot follow, you have a place here on WDC. None of us are prefect. We all struggle and we are all here to help each other in that struggle.

Friends have jokingly suggested that I drank the WDC kool-aide. I will happily agree. I did and I am so glad I did. Here is to all of our new members finding their writing home with us as well.

Quick note: I lost my editor, He's moved three hours away and has very little internet access, all for the love of a girl. So please bear (or is it bare) with me there will be mistakes. I'm doing the best I can.



| | |
| --- | --- |
| ASIN: B07K6Z2ZBF | |



This past Friday, I sat down and looked over the last few chapters I wrote in November. I believed because, I was pushing hard, my bad arm was giving out after 100,000 words and I was praying for 250k, that I still had more to write. In my frustration, I failed to notice, I finished my book. Sure it still needs to be edited but after five complete rewrites, I think I finally got it right. Grammar checking and looking for dropped threads that I need to pick up in book two and a plan for doing it is all that was left.

Why is this important? Because it's April and that means Camp Nano. Once again I am putting myself in front of a keyboard on a daily bases. This time was not in hopes of writing a book but of finishing it. Finding out I already had, left me in a place to start book two with no plan for starting it.

Had I kept a steady pace that didn't wear me out and destroy my already bad arm, (or at least it felt that way). The thing is, had I stuck to a plan of writing 2000 words a day or even a thousand words a day, I would have managed to write for the entire month and kept going into December. Other than these newsletters, I haven't written anything since November. That's too long, according to my family. I am to hard to live with when I am not writing.

Had I kept a steady pace and continued to write every day, day in and day out, I would have known the first one was finished and moved on to the second much sooner. Practice makes perfect. My Daughter, AmbyK
is an amazing artist. Why because she draws every day. Even if its just a small doodle she is always drawing, painting, coloring something. That is true of most artists.

People have long said that if you want to be a writer you have to put your butt in your chair and write. You have short stories to tell? Great! Start telling them. You have poetry in your soul, write it. You have a novel you've been considering for years. Put yourself in front of the keyboard and write. Write every day. Write even when the mood hasn't struck you. Write because writing is what you do and at the end of the day, You are a better you for it.

I will be the first to admit I may never be a famous novelist but that doesn't mean I don't do better when I am writing and if your here, I am willing to bet you do too. So consider making a plan to write every day or even join us for Camp Nano. If not this month then in July. I promise you won't regret it.



Once again some of our newest members work
Never Forget Me (E)
A person whose friends left them for better or more popular people represented by flowers
#

2080273

by Alex
Invalid Item
This item number is not valid.
#

2080270

by Not Available.
Finding The President (13+)
This short story gives a look into a very possible situation that could happen.
#

2080267

by Daniel Cornett
For Thirty Years (E)
A birthday poem to my husband of thirty years.
#

2080255

by Nbnelson2
Once upon a time... (ASR)
The world is about to change for one girl... Is it for the good though?...
#

2080211

by CGB
Amy (GC)
Amy has found the perfect place to stay - kindly landlord, beautiful gardens, just perfect
#

2080172

by Alberto
Wildlife (13+)
This is for all of those whom love Wildlife.
#

2080114

by Chaos
Invalid Item
This item number is not valid.
#

2079938

by Not Available.
The Ghost of the Sword (XGC)
A medieval battle scene.
#

2079598

by Richard Patrick
Bound To Ages For A Night (18+)
Poem by the other hand of Prometheus, maybe Oedypus got the looks...
#

2079572

by PurpleHousesDo



Have an opinion on what you've read here today? Then send the Editor feedback! Find an item that you think would be perfect for showcasing here? Submit it for consideration in the newsletter!
https://Writing.Com/main/newsletters/action/nli_form



Don't forget to support our sponsor!




| | |
| --- | --- |
| ASIN: 0997970618 | Book |



Have you spent any length of time writing every day? Are you willing to give it a try?


| | |
| --- | --- |
| ASIN: B07RKLNKH7 | Kindle |



To stop receiving this newsletter, click here for your newsletter subscription list. Simply uncheck the box next to any newsletter(s) you wish to cancel and then click to "Submit Changes". You can edit your subscriptions at any time.