Spiritual: June 22, 2016 Issue [#7712]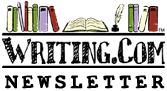 Spiritual





This week: A Burden Shared...

Edited by: Elle
More Newsletters By This Editor



1. About this Newsletter
2. A Word from our Sponsor
3. Letter from the Editor
4. Editor's Picks
5. A Word from Writing.Com
6. Ask & Answer
7. Removal instructions





As much as we'd like to pretend otherwise, bad things happen. It's a fact of life that we all come to accept. How we deal with what life throws at us varies from person to person though. lizco252 explored some of the different ways of grieving in "The Drama of Grief"
, and it got me to thinking about other ways that we cope with negative situations and negative emotions. For most of us on this site, one of those ways is writing.



| | |
| --- | --- |
| ASIN: 0997970618 | Book |



One of the things that I like about Writing.com is that there is so much diversity contained in this site that there is bound to be someone you can connect with. Whether you are a Christian, Wiccan, Muslim or atheist, there is bound to be someone else here who has made the same religious choice as you. Whether you're interested in reading spiritual, romantic, science fiction or vore, there is bound to be someone else here with those same interests.

None of us are the exactly same, and I would never suggest that any two negative experiences would be identical. But the chances are very high that there is someone else on this site who has been through something similar enough to understand. And there's a unique kind of comfort in knowing that you're not alone, and that someone understands.

There are a multitude of ways to express your negative emotions on this site. Some blog, sharing their experiences honestly and even asking for help or opinions. Some couch their experiences and emotions in poetry, perhaps obscuring the meaning to all except the those who can read between the lines. Some share their experiences as short stories, some written clearly as non fiction and some projecting their experiences and emotions on to fictional characters, giving them leave to explore options that they couldn't (or wouldn't) choose in real life. Yet others write informative articles that seek to educate.

It doesn't matter what vehicle you use to share. For many the simple act of writing is sufficient release, but others will seek (and find) that unique understanding and connection.

Just remember to rate your writing appropriately.

No More Eggshells (E)
Written for the So Emotional Contest - Prompt 'A Fresh Start'
#

2081624

by Choconut
Invalid Item
This item number is not valid.
#

2082482

by Not Available.
Night Dancing (E)
Quick poem about the desperation of mental illness
#

1972070

by Charlie ~ thx anon
Façade (ASR)
We all have one. Or two...
#

2072484

by Whata Knows Black Cats Rule!
Out Of The Dark (18+)
Poems about depression
#

2087725

by Jellyfish here we go again..
Invalid Item
This item number is not valid.
#

2008236

by Not Available.
The Life of a Multi-Dimensional Soul (18+)
True Life Stories from one of abuse/neglect, and experiences learned along the way.
#

769127

by Intuey
Dark Dreamscapes Poetry Contest (13+)
Round 48 Open December 2021.
#

1971713

by 🌑 Darleens lost in the Dark
Love Shouldn't Hurt (18+)
This group's goal is to help others find their voices and stop violence. Silence enables.
#

2040412

by Witchy woman



Have an opinion on what you've read here today? Then send the Editor feedback! Find an item that you think would be perfect for showcasing here? Submit it for consideration in the newsletter!
https://Writing.Com/main/newsletters/action/nli_form



Don't forget to support our sponsor!




| | |
| --- | --- |
| ASIN: B083RZ2C5F | Kindle |



When you come across an item that is deeply personal, or clearly portraying a negative experience/emotion, do you leave without commenting? What would encourage you to leave a comment on such a work?


The following comments were made in response to "Learning about other religions"
:

'With respect to the newsletter on world religions and tolerance. My dad is much like yours. Although he's actually a licensed Baptist minister. But he also believes in knowing what others believe and why before you ever talk to them about your own beliefs. I've also picked up that aspect and though I'm a Christian I believe Christ would want me to know and love everyone, no matter what they believe. Why? Because that's what Christ taught, tolerance and love. For me Christianity is not a religion but a way of life. Prayer and love.' ~ Elfin Dragon - contest hunting


'Nicely done! A lot of info packed into one place. I enjoyed reading the submissions and am glad that so many people were able and willing to write about their beliefs. I am happy to read these newsletters. Thank you for sharing!' ~ amyjo-Keeping it real and fun!


'I loved this! Not only because I was in it
but I loved the whole thing. From what you said down to the last of what Aqua said. Your dad sounds fascinating by the way!' ~ *Jenny*

| | |
| --- | --- |
| ASIN: B01MQP5740 | Kindle |



To stop receiving this newsletter, click here for your newsletter subscription list. Simply uncheck the box next to any newsletter(s) you wish to cancel and then click to "Submit Changes". You can edit your subscriptions at any time.



This printed copy is for your personal use only. Reproduction of this work in any other form is not allowed and does violate its copyright.