Contests & Activities: June 29, 2016 Issue [#7721]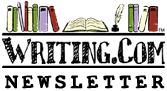 Contests & Activities





This week: Read The Rules

Edited by: Elle
More Newsletters By This Editor



1. About this Newsletter
2. A Word from our Sponsor
3. Letter from the Editor
4. Editor's Picks
5. A Word from Writing.Com
6. Ask & Answer
7. Removal instructions





I recently started work on an under-grad diploma, and for the two papers I'm sitting this semester, I had to log in to the virtual 'blackboard' and post an introduction. The first requested us to introduce ourselves. Simple, and everyone was able to do this. The second requested us to 'Introduce yourself. No personal information required, but please state your experience with writing long reports and what you hope to get out of this course.' Of the thirty-odd responses, I think only two actually did what was asked. There was another question for the same paper that gave clear guidelines for our answers (which were to be a single sentence consisting of three parts). So many people gave multiple sentence answers, or even paragraphs, and very few used the three part sentence we were required to use. It got me thinking about how many people don't read the questions or don't read the rules, and I wanted to take this opportunity to remind you all of the importance of reading the rules.



| | |
| --- | --- |
| ASIN: B00KN0JEYA | |



Once you've hosted and judged a few contests, you start to notice patterns. The more you host and judge, the clearer those patterns become. One thing we see over and over again is that people don't read the rules.


Disqualifications are disappointing for entrants and hosts alike. It's terrible to agonise over an entry, only to be disqualified on a technicality. And what every contest host wants is entries, so having to disqualify one or more is a really tough job.

When I first joined Writing.com, I discovered that the official site contests were very precise, and it was easy to get yourself disqualified from one. I've done it. So many of us have. Whether it was a failure to add a word count, going over the word limit, editing after the deadline, or whatever. I admit, I did wonder why they couldn't be a little more lenient. Hey, we're all human, we all make mistakes. It's just a hobby for me, not one I take too seriously, so why get all bent out of shape about it?

I had it explained to me that it was partly for 'training' purposes. Many of us want to submit our work to publishers, yet publishers are seriously pedantic when it comes to the rules. They get so many submissions that they will automatically reject any that don't follow the required guidelines. Writing.com was, in a way, preparing us for that, teaching us to read the rules carefully.

As a contest host, I have noted that it doesn't matter how clear and simple the rules are, there is always one person (at least!) who doesn't follow them. It becomes incredibly frustrating. For me, deadlines are the most significant. Sure, I could be lenient and give you a few extra minutes, hours, or days, but that wouldn't be fair to the other entrants who did the best they could within the limited time given. If you have extra time to work on your entry, they should do. It's impossible to keep bending the rules constantly. If we did, we'd never get anything done, there'd be no deadlines and nothing would ever be judged. Rules are necessary, and sadly, so is the enforcement of said rules.

Another aspect to consider is that sometimes we (as entrants) genuinely benefit from the restrictions being imposed upon us. I recently wrote a 74 word 'story'. I can assure you, if left to my own devices, it would have easily been a few hundred words if not longer. Paring a story down to meet that word count required me to use a skill I genuinely don't exercise very often and made me focus more on my word choices. If I keep doing that, and making more conscious word choices, I will be a better writer.

As the deadline for a lot of contest looms on June 30, please double check all the rules of the contest you are entering, and then double check that your entry meets all those rules. Those few minutes could save you the pain of being disqualified.

Invalid Item
This item number is not valid.
#

2085951

by Not Available.
Invalid Item
This item number is not valid.
#

2087380

by Not Available.
Invalid Item
This item number is not valid.
#

2054775

by Not Available.
The Lair Contest (Mythical Creatures) (ASR)
Monthly Mythical Creatures writing contest. Stories or epic poems - you choose!
#

1938456

by Beacon - Light 4ever
The Littlest Poetry Contest (E)
Enter your best children's poetry and be in to win!
#

2031529

by Elle
The 4 Controversies Contest (18+)
OPINIONS? Groovy! The 4C's is a 3X Quill Winner! Enter Your Non-Fiction Next in SUMMER '21
#

2083509

by Whata Knows Black Cats Rule!
Invalid Item
This item number is not valid.
#

1948893

by Not Available.
CLOSED - Tales of Seduction (18+)
Stories of Erotica, Romance, or Love, wherever your muse takes you!
#

1702029

by QPdoll - Happy New Year!
No Dialogue Contest - ON HIATUS (E)
Write a story containing no dialogue, in 700 words or less, based on the monthly prompt.
#

2079495

by QPdoll - Happy New Year!



Have an opinion on what you've read here today? Then send the Editor feedback! Find an item that you think would be perfect for showcasing here? Submit it for consideration in the newsletter!
https://Writing.Com/main/newsletters/action/nli_form



Don't forget to support our sponsor!




| | |
| --- | --- |
| ASIN: B083RZ2C5F | Kindle |



If you have comments or suggestions, I'd love to hear from you.

| | |
| --- | --- |
| ASIN: B004PICKDS | |



To stop receiving this newsletter, click here for your newsletter subscription list. Simply uncheck the box next to any newsletter(s) you wish to cancel and then click to "Submit Changes". You can edit your subscriptions at any time.



This printed copy is for your personal use only. Reproduction of this work in any other form is not allowed and does violate its copyright.