Mystery: August 31, 2016 Issue [#7828]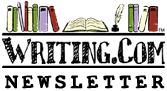 Mystery





This week: Mystery calling!

Edited by: Arakun the Twisted Raccoon
More Newsletters By This Editor



1. About this Newsletter
2. A Word from our Sponsor
3. Letter from the Editor
4. Editor's Picks
5. A Word from Writing.Com
6. Ask & Answer
7. Removal instructions



Quote for the week: "Well, if I called the wrong number, why did you answer the phone?"
~James Thurber


| | |
| --- | --- |
| ASIN: B07NPKP5BF | Toy |

The telephone is a wonderful invention. Just punch in a few numbers, and you can speak to someone on the other side of the world. The telephone is also a little bit mysterious. The ringing of the phone can bring good news, bad news, a threat, a cryptic message, a cry for help, or...well, you won't know unless you answer the phone.

Ever since they became widely used, telephones have played an important part in mystery and suspense fiction. Here are just a few movies, books, and TV shows that wouldn't be the same without telephones:

Dial M for Murder (movie 1954)
A complicated murder plot in which the murder is planned to be timed with a phone call

When a Stranger Calls (movie 1979 and 2006)
Based on the urban legend of the babysitter and the killer who calls from inside the house

Sorry, Wrong Number (movie 1948)
Due to a bad telephone connection, a woman overhears a murder plot

Tell Them Whats-Her-Name Called (book by Mildred Davis)
A series of deaths on a college campus have been arranged to look like accidents, but before being killed, each one receives the message, "tell them whats-her-name called."

Play Misty for Me (movie 1971)
A frequent caller to a radio show becomes obsessed with the DJ and begins to stalk him

Scream (movie 1996)
A killer who is obsessed with horror movies calls victims before attacking them

Pretty Little Liars (book series by Sara Sheppard and TV series)
A teenage "mean girl" named Alison who knew everyone's secrets disappears and is presumed dead. A year later, her friends began receiving calls and text messages from someone who knows all their secrets. The caller signs the messages "A".




The voice quality of early telephones was poor, so a person might not actually recognize the caller's voice. Today, the quality is much better, and investigators can use voice print analysis to match a recorded phone message to the voice of a suspect. However, electronic devices can be used to modulate and disguise the voice. Computer reading programs can also be used to read a message. It is interesting that we still use terms associated with old style phones, such as "dial" and "hang up" even though we no longer do those things with modern phones.

In the days of party lines, it was difficult to keep any phone conversation secret. Members of the same party line could pick up the phone and hear anything their neighbors discussed. In stories that take place at that time, a character might overhear some mysterious or frightening conversations.

Before the advent of caller ID, we had no idea who the caller might be when we picked up the phone. Caller ID tells you what phone the call originates from, but you still might not know who is on the other end. A stalker might call his victim from a phone belonging to someone he knows the victim trusts.

Cellular phones have revolutionized communication and mystery/suspense writing. Stories such as "Pretty Little Liars" would not be the same without them. When you receive a call from a cellular phone, you have no idea where the caller is located. He might tell you he is miles away when he is actually right outside your front door. One of the most frightening moments in the movie "Scream" was when the unknown caller speaking to Drew Barrymore's character said, "I want to know who I'm looking at."

Cell phones also allow for an additional means of communication--text messages. Your characters can communicate by text message in a situation where they need to stay silent. An evil character might also use text messages to send threatening notes or ransom demands. A cell phone can also double as a computer, a camera, and a flashlight.

Something to try: Write a mystery story where a cell phone is an important part of the plot.



I have participated in the following activity for three years in a row, and it is TONS of fun! Play the part of your favorite character, solve a mystery, win prizes, and help celebrate WDC's 16th birthday!
Wdc 16th Birthday Masquerade Party (13+)
A role-playing party where you can be whoever you want and win prizes!
#

2085940

by I like big books #2233315
Pretty, Perfect and Daring (13+)
When five beautiful, privileged besties decide to play Triple Dog Dare at the lake. #1
#

2091867

by Hanna ~ Be Kind 💕
At the Edge of the Woods (13+)
What in the world happened to Carlos Delgado
#

1919561

by Eric Wharton
The Bartimaeus Seven (13+)
A seven-part mystery written in first, second, and third person. (known as a symetrina)
#

1057876

by W.D.Wilcox
The Island (13+)
A young couple desperately tries to cling to their fraying sanity and delusions.
#

1059879

by iKïyå§ama



Have an opinion on what you've read here today? Then send the Editor feedback! Find an item that you think would be perfect for showcasing here? Submit it for consideration in the newsletter!
https://Writing.Com/main/newsletters/action/nli_form



Don't forget to support our sponsor!




| | |
| --- | --- |
| ASIN: B083RZJVJ8 | |

Question for next time: What is the most interesting real life mystery you have ever heard?

| | |
| --- | --- |
| ASIN: B004PICKDS | |



To stop receiving this newsletter, click here for your newsletter subscription list. Simply uncheck the box next to any newsletter(s) you wish to cancel and then click to "Submit Changes". You can edit your subscriptions at any time.



This printed copy is for your personal use only. Reproduction of this work in any other form is not allowed and does violate its copyright.