Mystery: September 07, 2016 Issue [#7845]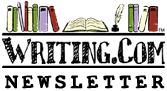 Mystery





This week: Life's true mysteries

Edited by: Elle (she/her)
More Newsletters By This Editor



1. About this Newsletter
2. A Word from our Sponsor
3. Letter from the Editor
4. Editor's Picks
5. A Word from Writing.Com
6. Ask & Answer
7. Removal instructions



As a founder of the "Roots & Wings Group"
and an avid genealogist and family historian, I have a keen interest in the mysteries that dwell in my family's history. It is as much fun to discover the facts and piece the story together as it is to retell the story to my relations and witness their reactions!

| | |
| --- | --- |
| ASIN: B01DSJSURY | |

It is my grandmother's 90th birthday next month. It is always tricky to know what gift to give a person of that age. I was rather lucky, because as the family historian and genealogist, I was able to create a frame-worthy family tree for her. I hope it will both please and interest her, as well as spark conversation among the extended family at her birthday gathering.

Genealogy is the epitome of a complicated puzzle. With every fact you unearth, you see a little more of the picture. However, there is no box with a picture to follow as a guide, rather it is more like Sherlock Holmes trying to piece together a mystery. What happened? Who was there? Why and when? Sometimes we find out the answers, and other mysteries are left unsolved, gnawing away at genealogists as they try to sleep at night.


I had some poor ancestors, and one branch of the tree seems to abound with mysteries that quite captivate me. My 3x great-grandfather had six children, including a new baby, when his wife died. My first thought was that she died in childbed, but no, further investigation revealed that the baby was more than a year old when the mother died. Then I discovered a second wife who also died. What ho! A murder mystery? Alas, it could hardly be murder when the second wife died in a cholera epidemic that swept their small town. Hard to plan one of those.
Then I discovered records that showed that between the death of the mother and the second marriage, the father and two youngest children were living in a workhouse in London, only to be kicked out and sent back to their small town because they 'did not belong to London' and therefore ought not be in the London workhouse. The other children were found separately in local workhouses. Why was the family separated? Why did the father and youngest children go to London? And I still don't know what happened to the mother!

Another mystery is that of my 2x great-grandfather. After his mother died when he was six, he ended up in a workhouse. The workhouses were dreadful places and eventually he ran away. Some time later, he 'begged for readmission'. What would make him beg for readmission to such a dreadful place other than the most extreme of circumstances? He later joined the army and had a terrible record, finally being discharged with a note that his 'conduct was bad and his habits intemperate'. He married and had ten children, but still showed up on censuses from time to time as a boarder living separate from his family. Did his wife kick him out? Was he travelling for work? We know that he did not permanently separate from his wife, as their youngest children were not yet born at that time. Finally, he died in WWI. But not on the field of action. No, he was at home in England. How did he die so far from the field of battle? Did his 'intemperate habits' catch up to him? He was only fifty. I am still trying to find the answers, and may never know the truth.

The more I discover of this particular branch of my family tree, the more they sound like characters from Dickensian novel. In fact, I found out that one of the orphanages Charles Dickens visited when researching for Oliver Twist was the same one that my great-grandfather lived in after he was orphaned at the age of nine.

Your ancestors could inspire a tale or two too. You never know what secrets they were hiding and what mysteries you may uncover if you go looking.

Washout! (18+)
an essay about my great grandfather...
#

2058838

by Jim Hall
The Traveling Pocket Watch (E)
story from the POV of a Rail Road pocket watch and it's various travels over 3 generations
#

2049992

by Elfin Dragon-finally published
Survive (13+)
Contest entry: a story about the life of my great grandmother. Set in the year 1915.
#

2050723

by Once In a Red Moon
SALUTE TO A FIGHTING FISH (13+)
Francis, my great-grandfather, fought in W.W.1 as a sergeant in The Fighting Fish.
#

2037799

by SandraLynn
THE WAR HAMMER (ASR)
I've been in the same family for 10 Generations
#

2024515

by Oldwarrior
A Box Full of Memories (13+)
I rediscover my Great-grandfather
#

2026370

by Hatsuda
THE TRAIL OF TEARS! (E)
My Great-great Grandfather - The Soldier Who Was Good To Us...
#

1490160

by Oldwarrior
Roots & Wings Group (E)
A group for those with an interest in writing their memoirs or family history.
#

1962411

by Elle (she/her)



Have an opinion on what you've read here today? Then send the Editor feedback! Find an item that you think would be perfect for showcasing here? Submit it for consideration in the newsletter!
https://Writing.Com/main/newsletters/action/nli_form



Don't forget to support our sponsor!




| | |
| --- | --- |
| ASIN: B07P4NVL51 | |

Do you have any unsolved mysteries in your family history? Tell me about them!

| | |
| --- | --- |
| ASIN: B01IEVJVAG | |



To stop receiving this newsletter, click here for your newsletter subscription list. Simply uncheck the box next to any newsletter(s) you wish to cancel and then click to "Submit Changes". You can edit your subscriptions at any time.



This printed copy is for your personal use only. Reproduction of this work in any other form is not allowed and does violate its copyright.